Are you ready to get the most out of your winter escape? Set yourself up for a successful season with 4-days of early season skiing in the Canadian Rockies, while mingling with the best ski racers in the world during Canada's Premier World Cup Event at Lake Louise! Team up with pro skier, Rossignol International Ambassador, and former Ski Television Host, Claire Challen, at Lake Louise and Sunshine Village, where Claire will share her decades of experience as a racer, a coach, and an instructor. Warm up those ski legs and start locking in the proper technique. We will ski moderate terrain and low-angle groomers to get your season rolling smoothly. If you're looking for quality time on snow to prepare yourself for the season ahead, this trip is for you.
Claire is an ACA-CSC Performance Level Coach and a CSIA Level III Instructor. She operates Peak Training Fitness in the off-season and spends her winters working with adults to improve their skiing, coaching ski racers, and traveling with Rossignol Women's We Rise Camps. She absolutely loves to be in the mountains sharing her passion and helping others feel more confident on their skis.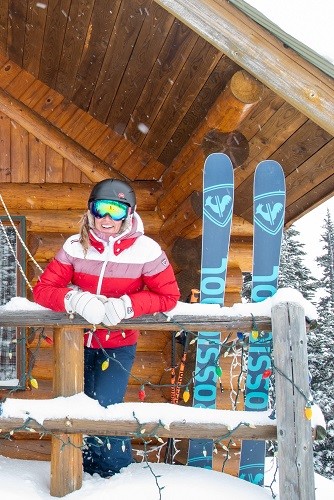 More on Claire:
Claire is an all-around good human and fun! With her by your side, you might just carve your way to the best turns of your life. 
"Skiing isn't that complicated – to do it well, you've got to see the mountain as your ally and charge down it with a combination of flow and power. I love it! I'm excited to explore Lake Louise & Sunshine with our clients!"