Monday, July 31, 2017 -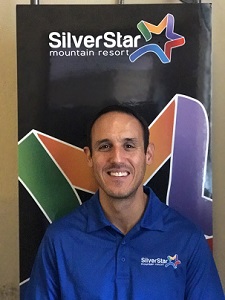 By Phil Martin (above), Regional Sales Manager Silver Star. Friend of Skican and fun loving Brit (and now a Canadian!) who loves his home mountain of Silver Star, BC.

I moved to Vernon in 2012 and have proudly been a season pass holder at SilverStar every year since then (both summer and winter). I have been very lucky to ski all around the world (France, Italy, Switzerland, Austria, NZ, etc…) and I can honestly say that SilverStar is my favorite resort hands down. It's a big resort (3rd largest in BC) with a mid mountain village, which I love because at the end of the day who wants to get a shuttle or other mode of transport before your first run of the day. The amount of runs and range is fantastic too, 132 runs with a great mix of green, blue, black and double black meaning whatever your skill level you will have enough runs to check out and enjoy regardless of how long your visiting. I've been coming here for 5 years now and I am still finding new trails and gladed areas to ski each day meaning I'm never bored or feel the need to go out further afield to visit other resorts.

For the last 2 years I worked a ski instructor here too which was so much fun and really helped me develop my skiing. I have been skiing for over 20 years without a proper lesson and so picked up a lot of bad habits along the way that took some time to fix but I am very happy to say that I am now CSIA level 2 and working towards my CSIA level 3. What this has allowed me to do is not only help other people learn and hopefully get as much enjoyment from the sport as I do, but it's also allowed me to become a much better skier. Before I used to stay on the blues and do the odd black run, but now I am able to ski every run at the resort which has been so much fun and I was able to really top it off this year by finally doing the double black diamond challenge, all 16 runs in one day (took me just over 5 hours) which is something I couldn't have even considered doing a few years ago.

Living close to the resort has allowed me to visit lots, I managed to ski over 100 days last season. I always like to get down to our main lift, the comet, for first chair which leaves at 8.30am. I then always do a few of the freshly groomed blue runs on the front side like Milky Way, F.I.S, Whiskey Jack and one of my favorites on the mountain, Big Dipper. I absolutely love going fast so this keeps me very happy having the runs almost to myself. By about 10.30am is starts getting a little busier (by that I mean having to queue for 5 mins, which for me as a local is too long to wait) so I head over to the back side and start on some of the more challenging terrain, some of my go to runs on the back side include Caliper Ridge, Normania, Holy Smokes and Freefall, a double black which is very steep with around a 50 degree slope. By about lunchtime when the back side starts getting busier I then head back over to the front side and down to the Silverwoods chair which has a ton of blue runs and gladed areas to play around in. Once I've skied all I can, I sometimes will head to Long Johns for some food (definitely the locals/ski instructor hang out) or just change the skis to my snowboard and head back out. I honestly feel so blessed to call SilverStar my home and to have this massive playground in my back garden is something I will never take for granted. Basically, I will be a resident of Vernon for the rest of my life. When life is this good why ever think to leave?


 Learn more about Silver Star or plan your trip.
« Back