Ski Resorts in New Zealand
Spectacular alpine scenery and stellar skiing south of the equator.
While most people will picture New Zealand as the land of Middle Earth, America's Cup sailing, and sheep farmers, the alpine regions of Aotearoa also offer some of the best ski resorts in the Southern Hemisphere 
If you are looking for an adventure, there is no better option than a ski vacation in New Zealand. The Kiwi ski season typically runs from mid-June through to early October, which makes it a great option for the late summer or early fall getaway. 
The best ski resorts in New Zealand are located near Queenstown and Lake Wanaka on the South Island, only a short flight from the major hub of Auckland. If you feel like venturing farther afield, more ski fields are located in the Christchurch/Canterbury region and around Mount Ruapehu on the North Island.
One thing is certain, from the picturesque mountain towns to the charming Kiwi hospitality, a ski trip in New Zealand will definitely have you coming back for more. 
Top Ski Resorts in New Zealand
Learn more about some of the best ski resorts in New Zealand.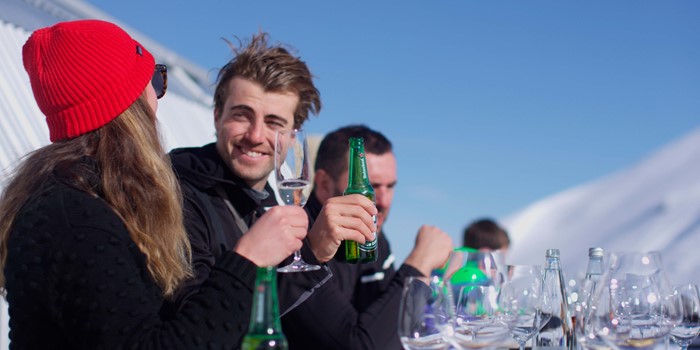 Queenstown Ski Resorts
Set in the heart of New Zealand's Southern Alps, Queenstown is a haven for thrill seekers, adventure lovers, and (of course) skiers. This scenic mountain town is a unique destination where you can go heliskiing, bungee jumping, sample local wines, treat yourself to fine dining, and enjoy a vibrant local nightlife — all in the same day.
Coronet Peak
Located just outside Queenstown, Coronet Peak is New Zealand's first commercial ski field and one of the most popular ski resorts in the country. The resort is a perfect destination for intermediate-level skiers and offers a wide range of blue cruisers, groomers, and roller coaster terrin, with more challenging runs around the fringes.
Coronet also boasts some of the best resort infrastructure on the South Island, including great snowmaking, efficient lift systems, a comfortable day lodge, on-mountain accommodations (unlike most other ski fields), night skiing, and NZ's longest ski day with First Tracks.
The Remarkables
While The Remarkables may be one of the smaller resorts in the Queenstown/Wanaka area, the resort is proud to offer spectacular views across Queenstown and Lake Wakatipu — said to be among the best you'll find anywhere in New Zealand.
The resort is only a 40-minute drive from Queenstown, offers great terrain for beginners or families, and an excellent terrain park, where you can take it to the next level at The Burton Stash (one of only six in the world). 
If you're willing to hike into the backcountry, visitors can also drop into sun-soaked bowls and world-renowned chutes where the top pros have competed at The North Face Frontier, a 4* World Cup Qualifier Event.
Wanaka Ski Resorts
Visitors from around the world are drawn to Wanaka for its outstanding beauty, friendly locals, and proximity to world-class mountains. This vibrant small town has it all — stylish boutiques, a thriving food and drink scene, and beautiful natural scenery.
Treble Cone Ski Area
Treble Cone is the largest ski area in New Zealand and a great choice for more experienced groups of skiers. The resort receives the highest annual snowfall in the country and offers the largest vertical of any ski field — several impressive statistics that make it a desirable destination for anyone.
The resort is easy to access from Wanaka and its terrain caters primarily to intermediate or advanced skiers and riders. From its peak, visitors can take in beautiful views of Lake Wanaka and nearby Mount Aspiring.
Cardrona Alpine Resort
Located halfway between Queenstown and Wanaka, Cardrona is a great all-round resort that offers plenty for everyone and is typically one of the highest-rated destinations in New Zealand. It is a great choice for families or groups of mixed abilities, with consistent snow conditions thanks to higher altitude and easterly-facing basins.
The resort provides a wide range of terrain, excellent infrastructure for lifts and snowmaking, and the most extensive terrain park facilities in the Southern Hemisphere. Their world-class park features two halfpipes, a big air jump, a World Cup slopestyle course, and a gravity-cross course — across four different areas for skiers and riders of all skill levels.
Get started creating your dream ski experience! Get a Quote
Ski Resorts in New Zealand Specials & Ski Escapes
Activities
More details on specific resort activities to come!