Whitewater Ski Resort
Pure, Simple & Real ...Deep
Nestled deep in British Columbia's Selkirk Mountains, Whitewater is a one-of-a-kind winter resort, it is the perfect place for skiers and riders who have a passion for winter and an appreciation for the authentic. Far from the hustle and bustle of today's bigger resorts, Whitewater owes its laid-back reputation to the small lift lines and big hospitality.
Whitewater also has a reputation for offering some of the most epic powder on the planet. With over 40 feet of annual snowfall, the resort is known for its dry powder conditions throughout the season. Visitors and locals alike enjoy some of the best powder bowls and glade skiing in the Rockies, with minimal crowds and an abundance of backcountry terrain to explore.
Whitewater is located a half-hour drive from the historic town of Nelson, British Columbia, just off the famous Powder Highway. Nelson is a hub for adventure sports equipment and clothing stores and includes many carefully restored heritage buildings from the region's silver rush. The resort can be accessed by flying into nearby Castlegar, Cranbrook, or Kelowna. Nelson can also be accessed by flying into Spokane and catching the Nelson direct shuttle bus.
New for the 2023-2024 Season...
Quad Chair & Terrain Expansion

Exciting things are on the horizon for Whitewater Ski Resort in the 2023-24 season! Get ready for an enhanced skiing and snowboarding experience with the introduction of the brand-new "Raven" quad chairlift. This new lift is set to take your mountain adventure to new heights, providing quicker access to Silver King Ridge and 123 acres of new terrain! Speaking of terrain, Whitewater is also expanding its winter playground with the addition of 14 new groomed and gladed trails!
Hummingbird Lodge & Campground
And that's not all! For those seeking a cozy and convenient base for their mountain getaway, the new Hummingbird Lodge is Whitewater's first on-hill accommodation and your newest home away from home. This modern lodge offers a comfortable and chic 2-bedroom private suite, fantastic amenities, and stunning Ymir peak mountain views. If you're looking for a more rustic experience, Whitewater's Campground provides a unique opportunity to immerse yourself in the great outdoors while still being just a stone's throw from the resort's amenities. Whether you're a die-hard skier or simply looking to embrace the serenity of the mountains, Whitewater Ski Resort has something for everyone in 2023-24.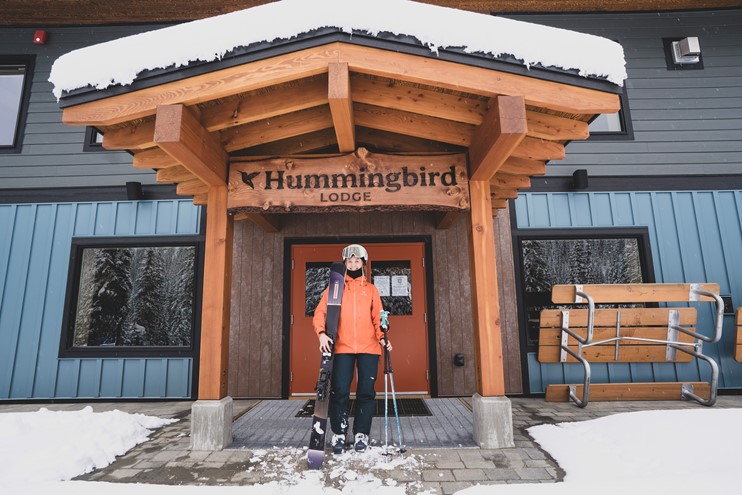 Jump to:
Ski Specials
Resort Activities
Whitewater Ski Resort Specials & Ski Escapes
Activities
Congratulations on selecting Whitewater as your Skican vacation destination! Although Whitewater is best known for its terrific skiing/riding, the area offers plenty of additional activities for you to enjoy during your stay.
Snow Cat & Heli Skiing
The supernatural wilderness of four wild mountain ranges and renowned winter weather combine to make British Columbia's Kootenay region one of the world's premier snowcat & heli-skiing destinations, offering unforgettable high country skiing and snowboarding experiences.
Whitewater's partner companies Big Red Cats and Stellar Heliskiing offer unparalleled access to the terrain around Whitewater in the Selkirk and Purcell mountain ranges. Explore open bowls, high alpine peaks, and steep forests, where all your powder dreams will be satisfied!
Dining & Entertainment
Nelson's Baker Street includes a collection of great restaurants, heritage pubs, art cafés, and metro nightlife — all within a pleasant evening stroll. For example, try Mike's Place Pub, an English-style pub that is the ultimate apres ski hangout. Rub shoulders with artists, musicians, ski bums, foresters, professionals, and more, all while enjoying locally brewed organic ale from Nelson Brewing Company.
Ski Touring
If you're looking to explore those hidden gems on the mountain, Whitewater can recommend several top picks for guided and unguided ski touring options in the Kootenay region of British Columbia. These companies provide friendly guides, customized tours, and fluffy powder to make for a truly stellar adventure.
Nordic Skiing
Discover the beauty and tranquility of Nordic skiing at Whitewater Ski Resort. Whether you seek the serenity of nature or the thrill of gliding on snow! Embark on a journey through pristine snow-covered landscapes on an extensive network of Nordic skiing trails. Meandering through towering forests and open meadows, these trails offer a variety of difficulty levels, catering to beginners, families, and expert skiers alike. Whether you're seeking solitude or enjoying the company of friends, the tranquil atmosphere of the network of trails will leave you feeling rejuvenated and at peace.
Snowshoeing
Slow down your experience of the Kootenay region and go for a snowshoe through the breathtaking, well-maintained trails. And if you have your dog with you, bring the pup along!
Mountain Tours
The free, daily tours will give newcomers to Whitewater an understanding of the basics of getting around, as well as the finer points of the terrain on all three sides of the mountain. No reservation, just show up at the north-west corner of the lodge, by the Silver King Chair, at either 9:30 am or 2 pm and look for the Mountain Tour Hosts in their bright blue jackets.
Spas, Hot Springs & Body Work
After a long day on the slopes, give your body a chance to relax and revitalize. Steams, hot springs, spas, and terrific indigenous-inspired food. Steam and simmer at Ainsworth Hot Springs in one of their three natural thermal pools or make the trip to the Nakusp or Halcyon Hot Springs.


Get started creating your dream ski experience! Get a Quote