Friday, September 29, 2017 - Sun Peaks Resort offers adventure, relaxation, and perfect skiing conditions. Find out what a perfect day looks like at Sun Peaks in this blog!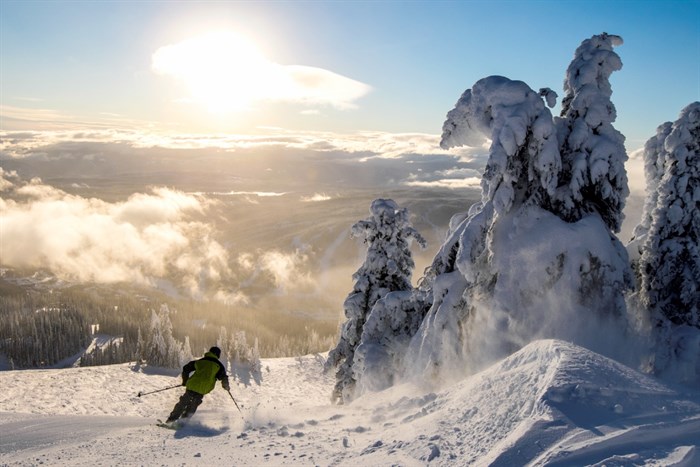 Set in the scenic Thompson-Okanagan Valley, Sun Peaks Resort offers everything that you could want from a ski vacation: adventure, relaxation, and perfect skiing conditions.
For this blog, we are going to walk you through a perfect day on the mountain at Sun Peaks. We hope you'll get some fun ideas for your next visit!
First Tracks Breakfast
For a perfect day at Sun Peaks, we recommend starting off with a First Tracks Breakfast.
First Tracks gives guests a chance to get exclusive access to the ski hill, ahead of the morning rush. Enjoy a few runs of carving up the corduroy, before stopping for breakfast at the newly renovated, mid-mountain restaurant, Sunburst Lodge.
First Track ticket holders meet at the Sunburst Express at 7:45am, which opens early to give you access to the top of the mountain. After you've worked up a good appetite with a few runs, you can enjoy a buffet-style breakfast at the Sunburst Lodge between 9:30am and 10:30am — breakfast includes hot and cold options.
Your Morning: Chase the Sunshine
With three peaks to choose from, a perfect day on Sun Peaks is all about following the sunshine — as the name would suggest!
After breakfast, we recommend starting on the east-facing Sundance Mountain. Try exploring gladed terrain like Rambler or Lone Fir Centre to find untouched spots, or just enjoy the wide cruisers like Grannie Greene's.
Lunch Spot: Masa's Bar + Grill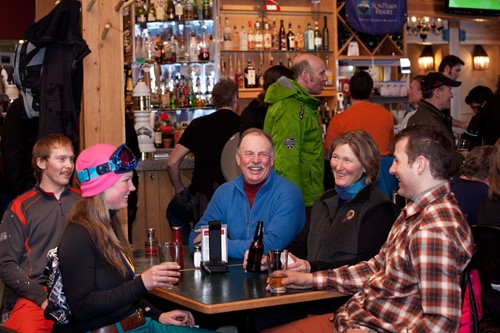 If you want to stay on the mountain for lunch, you should make your way back to Sunburst Lodge. But if you've already visited Sunburst for breakfast and you're looking for something new, we recommend coming down to the village.
Our favourite lunch spot in the village is Masa's Bar + Grill, which is located at the base of the lifts in the Day Lodge. Snag a spot on the patio, so you can watch people coming down the mountain, and enjoy the largest selection of draft beers in Sun Peaks!
Masa's offers a quick in-and-out with some great views — perfect for the whole family.
Your Afternoon: Keep Chasing the Sun
For the afternoon, you'll want to keep following the sunshine! Head over to the west-facing Mt. Morrisey where we recommend visiting the 'Laundromat' section of the hill for some more challenging terrain.
Turn skier's left to find runs with laundry-themed names like Tumble Dry, Lint Trap, Static Cling, and Spin Cycle — great for advanced skiers, with steep and technical terrain.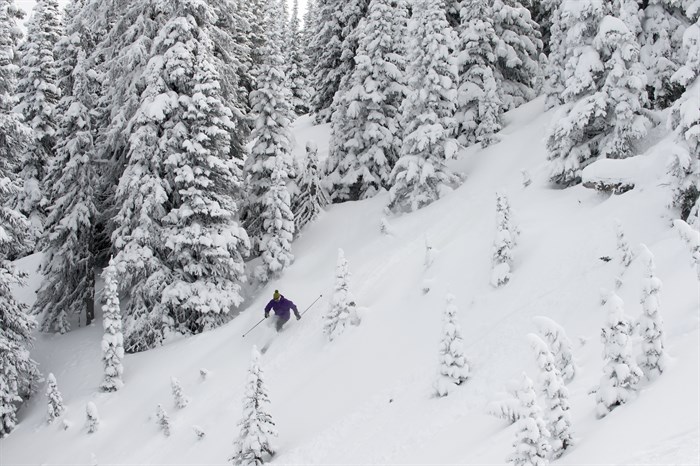 Après-Ski at Bottom's
Once the day is over, it's time to visit Bottom's Bar and Grill for some après-ski fun. Bottom's is the go-to spot for locals and a great place to unwind, featuring live DJs later in the evening. Play a game of pool, or relax on the patio after a long day of skiing.
We recommend you try their Bulldog Margarita — served in a big, Bellini glass with a Coronita sitting upside down inside. Cool, delicious, and perfect after a day of skiing!
Dinner Spot: Voyageur Bistro
Voyageur Bistro is one of our favourite dinner spot in Sun Peaks, offering a natural Canadian theme with ingredients like fresh bison and local berries. The restaurant takes its name from the Northwest Voyageurs Company, a historical competitor to the Hudson's Bay Company.
Our favourite dish at Voyageur Bistro is the Surf n' Turf Mac n' Cheese, which features beef tenderloin and lobster, topped with a creamy sauce and covered with a crispy layer of baked cheese. To pair with your meal, try the Pinot Noir from the local Ex Nihilo vineyard in the Okanagan Valley.
After-Dinner Activities
For an after-dinner activity, the Moonlight Snowshoe and S'mores offers a unique way to end your day. This tour begins with an easy 1km snowshoe hike out to the historic Hitching Post where a roaring fire will be waiting for you!
Enjoy hot apple cider, roast S'mores round the fire, and listen to your guide tell you stories about the history of the area. Finally, trek back down moonlit forest trails and take in the spectacular view of the village below.
There's just enough time for a soak in the hot tub before your perfect day at Sun Peaks is complete!
---
Special thanks to Kyle and the team at Sun Peaks Tourism for their contributions to this blog! 
Interested in a vacation at Sun Peaks? Contact us for a free, personalized quote today.
« Back