Wednesday, March 8, 2017 -
By Karen Nasmith, President of Skican
---
You won't find ski-in, ski-out accommodation at Whitewater. It's a bit off the beaten path. And most people that come to this mountain oasis like it just fine that way.
This somewhat misleading three-chairlift-mountain offers over 623 metres/2044 feet of steeps, deeps, chutes, bowls, and glades in addition to a huge expanse of backcountry terrain.
There never seem to be any lineups at the lifts, but if there were, half of the snowboarders and downhill and telemark skiers you'd see would be sporting the ubiquitous backpack avalanche gear – critical for exploring off-piste.
I've just returned home to southern Ontario from a truly memorable visit to Whitewater and Red Mountain with my 6 and 9 year olds. We stayed with friends who rented a house in Nelson for the winter. They kindly invited us out to visit them, and we jumped at the opportunity. Their children are of a similar age and they're great buds, so it was a no-brainer. Leaving behind unseasonably warm weather, all of us were ready for some skiing, hanging out, and fresh mountain air.
What caught me off guard is how moved I was when we waved goodbye. There's no doubt I fell a little bit in love.
This resort is for the seasoned skier / snowboarder interested in an authentic mountain experience. You'll unplug because there is no cell reception. You'll eat some of the healthiest and most delicious meals you've ever had at Whitewater's award winning cafeteria (I now own two Whitewater cookbooks). And, with any luck, you'll ski some of the deep, light powder that this region is famous for. Like we did. For 8 days straight. (Leaving was hard...the forecast called for snow, snow and more snow – a late season phenomenon of endless powder days that the locals refer to as March Madness).
I stuck to the patrolled area, exploring the glades and bumps and groomers with my kids leading the way. We skied for three days, then took one day off to visit the Ainsworth Hot Springs, and skied for another three days, wrapping up the trip with an additional two days at Red Mountain, about an hour down the highway in Rossland.
I loved being unable to check my phone for emails or texts. I loved the people watching – an all ages mix noticeably more hard core than other resorts I've visited. I loved the community feeling in the lodge; this is a crowd that 'works to live" and not the other way around.
I loved learning about the area through the eyes of the hitchhikers we drove up to the mountain and back every day (from Belarus, Sweden, Scotland, and New Zealand). I loved the coffee at Oso Negro, Thor's pizza and, most of all, I loved sharing a ski vacation with one of my oldest and dearest friends and our kids, just like our parents did a little while back.
Special thanks to our friends at Whitewater and Red Mountain – it was your deep appreciation of your mountain that really brought it to life for us in such a short time.
At least twice, I was told by locals, in a confiding kind of way, "Whitewater is not for everyone". I get that. An expert skier could spend endless days here exploring whereas a less experienced skier might be interested in a bit more variety. You need to want to be there, and not somewhere else. And those that want to be there will likely find themselves a bit torn when they leave.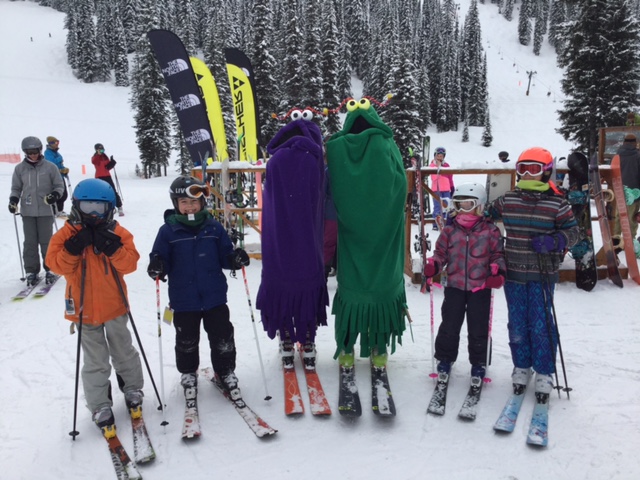 kid stuff at Whitewater.

If you are interested in exploring Whitewater:
If you are up for a last minute trip this March, the resort is open until April 1st.
March is generally known for the best snow. Check out the Coldsmoke Festival at the end of February / early March and demo the latest powder skis all weekend long. Or sign up for a backcountry clinic.
Fly into either Cranbrook or Kelowna. The local airport, Castlegar, is also known as "Cancel-gar" – 30% of flights are cancelled due to valley fog. No joke.
A rental car is advisable although it is possible to get an airport shuttle to Nelson and also from Nelson to the mountain. Four wheel drive and snow tires are mandatory for the drive up to Whitewater.
There is a range of accommodation options in Nelson – something for everyone and every budget. Talk to us for details.
Mix it up with a day trip to the Ainsworth Hot Springs, lunch just down the road in Kaslo at the Blue Belle café, then a few days at Red Mountain, about an hour from Nelson, and cap it off with some cat skiing at Red Mountain.
Get a quote for Red Mountain for Whitewater, BC
« Back