Tuesday, June 5, 2018 - It's never too early to start thinking about this year's ski trip. Learn why you should book your vacation early with Skican in this blog.

It may be hot outside, but summer is a great time to book your ski trip for the coming year. Although you may not be planning a ski vacation until January or even February, it's never too early to start thinking about flights, resorts, and lodgings. 
There are many great reasons to book your ski vacation early. At Skican, we specialize in building customized ski packages for families, for solo travelers, or for groups — and we can help you make the most of an early booking! Here are 5 reasons to book now with our team:
1. Take Advantage of Early Bird Offers
What's the best reason to book your ski vacation soon? The savings!
November is an amazing month to book your ski trip. Thanks to Skican's partnerships with a number of resorts in Western Canada, we can offer exclusive deals on ski packages, including discounts for lifts, lodging and equipment rentals, depending on the resort in question.
Here is a sampling of our early bird offers for 2018-19:
Banff & Lake Louise

— Save up to 30% on lifts and 25% with Banff Lodging Company. And kids 12 and under ski for FREE with an equivalent lift purchase by guardian.

Whistler-Blackcomb

— Save 30% or more on select lodgings.

Silver Star - Lodging, lift and discounts for kids.
Panorama

— Save from 15-30% on select lodging. Get 25% off lifts.

And much more!
The first early bird deadline is August 31, with the deepest cuts, so don't wait too long before booking your trip. Check our Ski Specials page for details!
2. Save on Flights
When it comes to savings, picking your flights early is another great option. Airfares can be significantly cheaper when you book several months in advance of your travel date.
According to a recent study on flight bookings, you get the best deals if you book at least 75 days in advance. That's a little over two months, so if you're planning a trip for Christmas or New Year's, then you should book as soon as possible.
Finally, if you hate hunting for the cheapest possible ticket, the team at Skican can help find a deal for you. We can talk directly to airlines and find those savings that you might miss otherwise!
3. Get Your Pick of Accommodations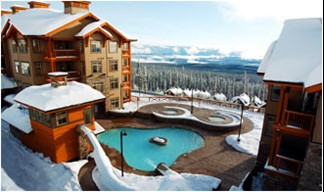 Want to get your favorite spot on the mountain again? Better book early — especially if you're travelling during peak vacation times like Christmas, New Year's, or March Break.
Lodgings at major resorts tend to fill up early, with some popular hotels starting to sell out in early fall. If you're looking for a specific type of accommodation, such as a multi-bedroom condo for your family or something with ski-in/ski-out access, then it's important to book soon.
An early booking can get you closer to the village, a better view of the mountain, or that hot tub on the balcony that you've been dreaming about.
4. Plan Out Your Activities

Instead of rushing to plan a week's worth of activities, give yourself the time to plan out your vacation. Create those once-in-a-lifetime memories for your kids with nighttime tubing. Knock off bucket-list activities like a romantic night of snowshoeing or a day of heli-skiing.
Find the time to book reservations at amazing alpine restaurants or research the greatest après-ski spots. This is your vacation — you should make the most of it!
5. Peace of Mind
With early booking, there is no need to stress and rush at the last minute. Rest assured that your flights, lodgings, and lift tickets have been taken care of — plus give yourself and your travel companies something to look forward to! Let the anticipation grow.
If you're interested in early booking options, check out some of the Ski Specials at Skican today
« Back