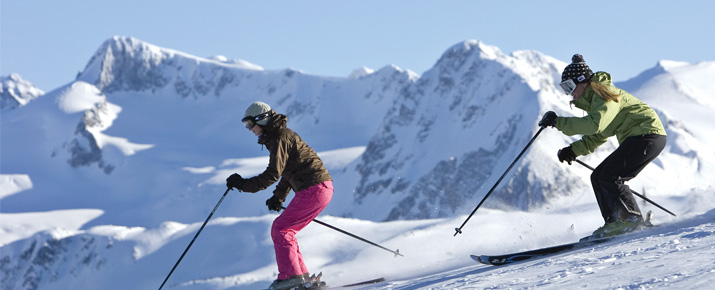 The Rocky Mountains offer Canadians a veritable cornucopia of great skiing. The variety of options in Western Canada is so impressive that even some veteran skiers find it intimidating to make a decision. There is simply so much terrain to choose from!
That's why the team at Skican has decided to break down the 5 best skiing areas in Western Canada. We want to help you choose the ski adventure that is right for you—whether that's a family resort, a winter wonderland of powder, or the biggest vertical in North America!
If you're fortunate enough to live in either British Columbia or Alberta, these amazing destinations may only be a few hours drive away. If you live in the rest of the country (or elsewhere in North America), then you may need to plan a weeklong trip. But if we're being honest, a weeklong trip is the ONLY way to explore these awesome ski destinations.
1. Whistler-Blackcomb
When it comes to skiing and boarding, Whistler-Blackcomb is 'wow'. The biggest ski resort in North America, with a whopping 8,171 acres, Whistler offers an unbeatable range of terrain to suit everyone from beginners to hardened veterans. Whistler's popularity is such that it ranks as one of the most visited ski resorts in the world—often topping 2 million visitors in a year. The lifts are spread across two peaks and connected by the PEAK 2 PEAK gondola—the highest and longest unsupported cable car span in the world.
Whistler has everything. Site of the 2010 Winter Olympics, Whistler provides its visitors with a truly world-class ski experience, both on and off the mountain. Whistler's slope-side mountain village offers guests fine dining and some of the best après-ski fun on the planet. The breadth of options means Whistler can accommodate a very diverse group; there's something for everyone!
2. Banff & Lake Louise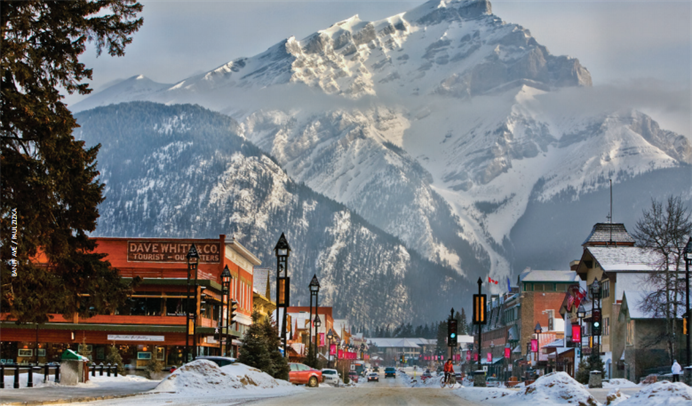 The Three Mountains sit in the heart of Banff National Park, a UNESCO World Heritage site. A triple mountain pass is available from Ski Big 3, giving you access to the entire area of almost 8,000 acres—making this region large enough to rival Whistler-Blackcomb. Lake Louise Ski Resort is the largest of the three, offering the most spectacular views and an idyllic getaway for visitors. Mt. Norquay is located just outside Banff and considered Canada's oldest ski area. It offers the Banff area's only night skiing. Sunshine Village lies midway between the two. It is slightly longer trek away, but gets some of the area's best snow.
Out of the Big 3, Lake Louise is the most well-known—often touted as the only Canadian resort to give Whistler "a run for its money". However, the shared appeal of these 3 mountains is their long ski season, often lasting from November until May. Perfect for early or late season trips!
Another feature that really makes the Three Mountains unique are their surroundings. The magnificent scenery of Canada's oldest national park encloses these resorts. This is a great choice if you want to do some exploring off the mountain. Go for a visit to the historic Banff Springs Hotel or Chateau Lake Louise. Snap a picture by the shores of Moraine Lake or with some local wildlife! The natural beauty of the Big 3 will not disappoint.
Ready to embark on your journey of discovery in Western Canada? Call 1.888.475.4226 and speak to an agent or please email us for more information.