Map Credit: Freeskier.com
British Columbia's world-renowned Powder Highway is located between the Monashee, Selkirk, Purcell, and Kootenay Mountain ranges in the eastern part of B.C., near the border with Alberta and the United States.
The area extends from the Trans Canada Highway in the north, where you'll find resorts such as Revelstoke and Kicking Horse, south along Highway 95A, past Panorama and Kimberley to Fernie, then loops back east towards the towns of Nelson and Rossland, where you'll find the resorts of Whitewater and Red Mountain.
The Powder Highway area is renowned for having the densest concentration of ski resorts in the world, along with dozens of backcountry cat and heli-skiing operators. These resorts also receive enormous amounts of B.C.'s signature Champagne Powder each year — which is where the region gets its name. This smooth, dry snow creates perfect conditions for skiing and most Powder Highway resorts receive upwards of 25 ft. in a season.
For the true aficionado, the Powder Highway is a skier's paradise, filled with vast terrain that can take years to fully explore. In this post, we'll give you a brief introduction to the 7 unique resorts on the Powder Highway and explain why we'd recommend a visit to each one!
Fernie Alpine Resort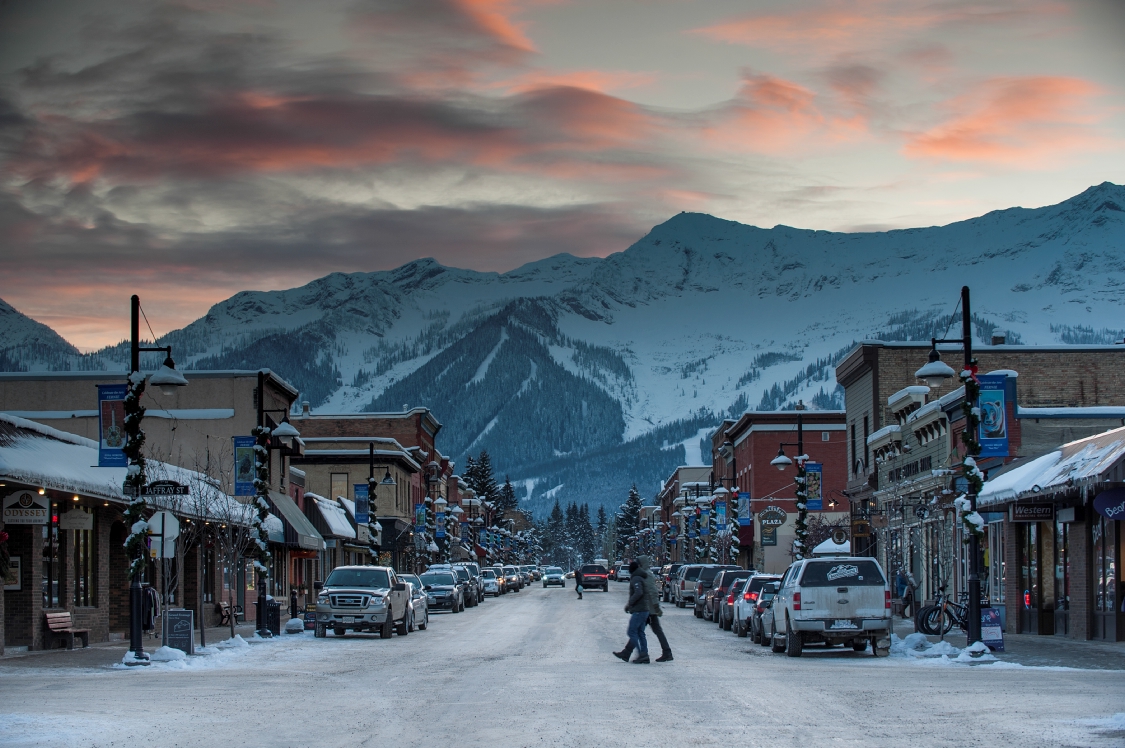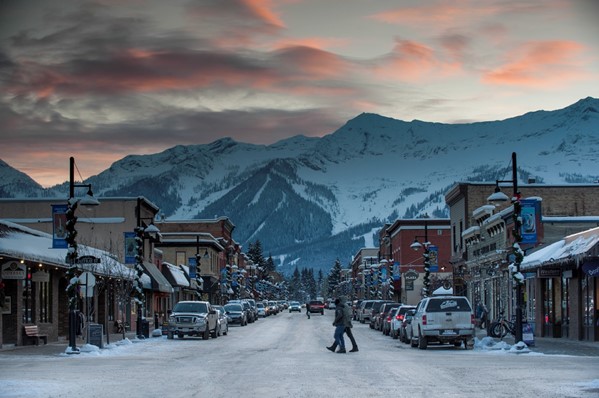 Snowfall: 37 ft.
Terrain: 2,504 acres
Vertical: 3,550 ft.
Runs: 142
Fernie Alpine Resort is tucked in the eastern ranges of the Kootenay Range. It is a classic skier's town — with the reputation of providing some of the best après-ski in all of the Rockies. While Fernie's nightlife can be lively, it lies somewhat off the beaten track, promising smaller lift lines than the competition.
Fernie also receives one of the highest annual snowfalls in the Rockies, which can be experienced across a vast array of terrain. The resort boasts five spectacular alpine bowls and 142 runs to explore — the highest number of any Powder Highway resort. Fernie has been a longtime favourite of powder lovers and will remain a favorite for years to come.
Learn more about Fernie Alpine Resort here.
Kicking Horse Mountain Resort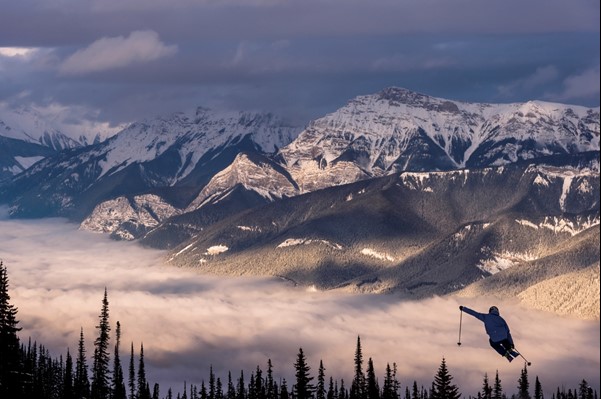 Snowfall: 25 ft.
Terrain: 2,825 acres
Vertical: 4,133 ft.
Runs: 128
Just outside the town of Golden, on the edge of the Trans Canada Highway, Kicking Horse Mountain Resort sits on the edge of the Purcell Mountains. Kicking Horse takes its name from the notorious Kicking Horse Pass, which lies across the valley from Golden — and the name is well-deserved.
Kicking Horse has some of the highest vertical in North America and great powder conditions, earning it favorable comparisons to top-notch resorts like Jackson's Hole in the U.S. There is no lack of challenging terrain here, including great bowl skiing, good glades, and the most inbound chutes in North America. It's also one of the easiest Powder Highway resorts to access.
Overall, Kicking Horse is an excellent choice for more advanced skiers who want challenging terrain and great powder conditions.
Learn more about Kicking Horse Mountain Resort here.
Kimberley Alpine Resort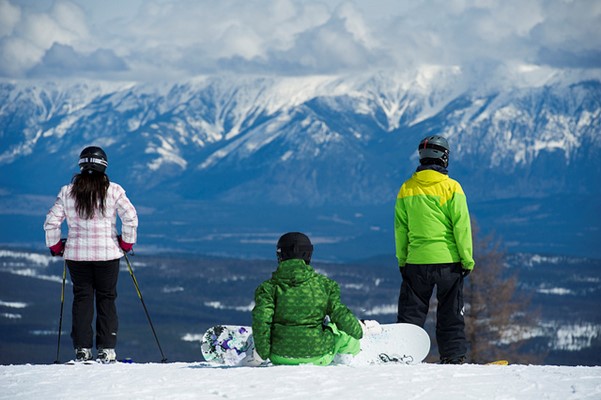 Snowfall: 13 ft.
Terrain: 1,800 acres
Vertical: 2,465 acres
Runs: 80
Located at the southern end of Highway 95A, in the Purcell Mountains, Kimberley is primarily known as a local's mountain. The resort offers a low-key vibe to visitors, with clear advantages like smaller lift lines and night skiing options.
While Kimberley won't beat its bigger neighbors when it comes to terrain or vertical, it does offer some great tree skiing in the Black Forest area of the hill and good options for family activities.
Check out Kimberley if you're looking to take your family somewhere less busy and more accessible for beginners or intermediates.
Learn more about Kimberley Alpine Resort here.
Panorama Mountain Resort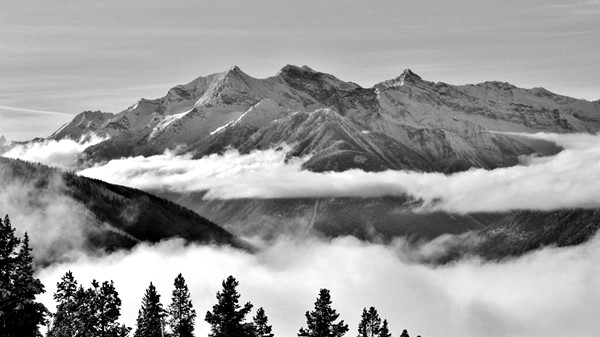 Snowfall: 16 ft.
Terrain: 2,847 acres
Vertical: 4,019 ft.
Runs: 120
Sitting halfway between Kicking Horse and Kimberley on Highway 95A, Panorama is a resort that's gone unnoticed for some time, but has recently begun to gain recognition in the global skiing community.
While Panorama is primarily designed to cater to families, but new terrain expansions have made huge alpine bowls accessible to more hardcore skiers and riders. The resort also boasts the second highest vertical in the region after Revelstoke, great heli-skiing options, and incredible views that earn its name.
The end result is a resort that provides a great compromise for a group with a mix of expert and beginner skiers.
Learn more about Panorama Mountain Resort here.
Red Mountain Ski Area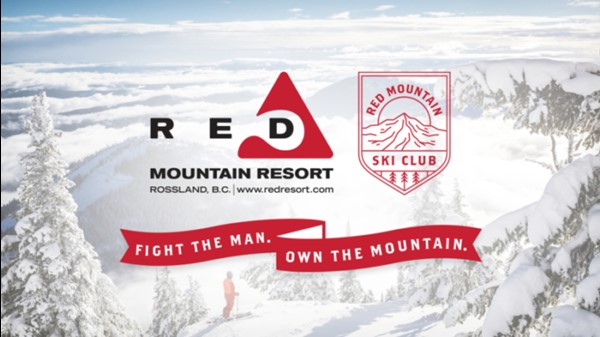 Credit: Red Mountain Ski Club
Snowfall: 25 ft.
Terrain: 4,200 acres
Vertical: 2,920 ft.
Runs: 88
Red Mountain Ski Area is located outside the town of Rossland in the Monashee Rockies. It is widely recognized as one of the first ski municipals in Canada, a former gold mining town that was transformed into a world-class ski town.
In 2016, Red broke the trend of mega-resorts and invited skiers to own a stake in the club through equity crowdfunding, with their now-famous "Fight the Man, Own the Mountain" campaign.
Red offers the most terrain of any Powder Highway resort across three mountains with 360 degree access from most peaks. They provide a huge variety of expert terrain, with chutes, trees, and steeps, as well as affordable cat skiing to reach even more untracked powder.
If you're a skiing purist, who's looking for the real deal, Red is the resort for you.
Learn more about Red Mountain Resort here.
Revelstoke Mountain Resort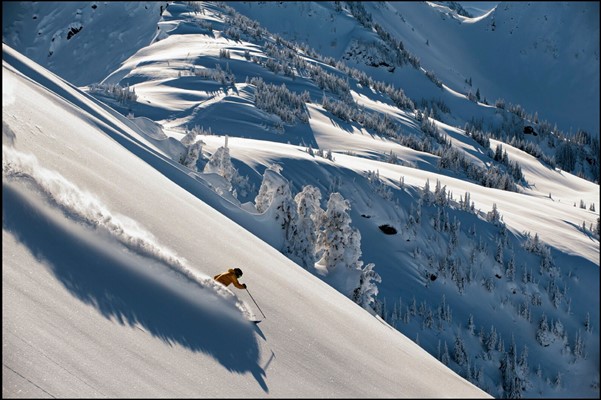 Snowfall: 45 ft.
Terrain: 3,121 acres
Vertical: 5,620 ft.
Runs: 59
For hardcore skiers, Revelstoke is considered the crowning gem of the Powder Highway — and it's easy to see why. A former cat and heli-skiing area between the Monashee and Selkirk ranges, Revelstoke offers the highest vertical of any resort in North America as well as the highest average snowfall.
The full development of Revelstoke is still a work-in-progress, but when this resort is complete, it will be the largest ski area in North America — outstripping even Whistler-Blackcomb. Even now, the hill offers amazing terrain, in the form of alpine bowls, tree skiing, and boundless powder.
Backcountry, cat, and heli-skiing operators are all available from the base of the mountain. While Revelstoke comes with some high recommendations, one thing is certain — this is not a mountain for beginners! If you come looking for a challenge, then you won't leave disappointed.
Learn more about Revelstoke Mountain Resort here.
Whitewater Ski Resort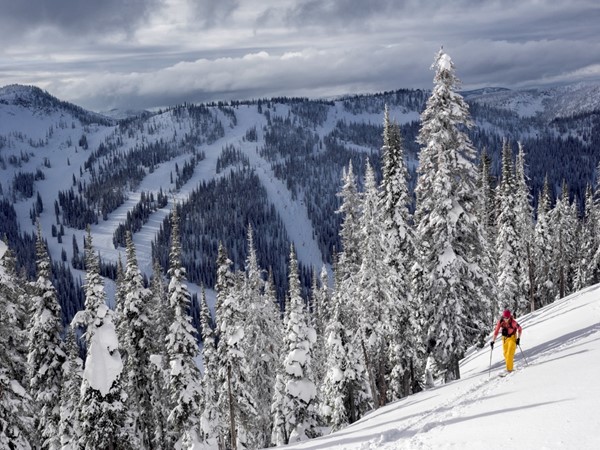 Snowfall: 40 ft.
Terrain: 1,184 acres
Vertical: 2,044 ft.
Runs: 78
Situated outside the hippie town of Nelson, Whitewater is another resort that has kept a low profile in the global skiing world. However, for skiers in-the-know, this resort has the reputation of being one of the best powder skiing destinations in the region — right up there with spots like Fernie and Revelstoke.
Whitewater also offers great tree and glade skiing, as well as excellent access to the backcountry. It is located in the lower Selkirk mountains, midway between Red Mountain and Kimberley.
Check out Whitewater if you're looking for an authentic skiing experience, off the beaten track, with amazing powder.