Are you looking for a ski resort that offers the most terrain to explore? For some skiers, variety is the spice of life. There's nothing better than a big resort where you can continue to discover new runs to try every day.
Browse our list of the biggest ski resorts in both Canada and the United States below. At Skican, we can help you put together a custom ski package so you can plan the ski vacation of your dreams. Start a quote today to learn more.
Biggest Ski Resorts in Canada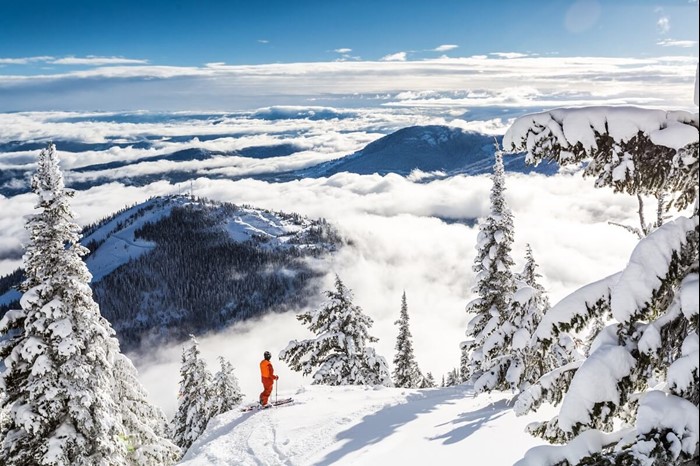 Credit: Ryan Flett
Red Mountain Resort is the first resort on our list of the biggest ski areas in Canada, coming in a tie for third place with Lake Louise. For many, Red may be a surprising addition to this list. It is a lower profile resort, better known for its authentic ski town vibes and its recent decision to crowdfund ownership of the resort.

However, Red is also a famous haven for backcountry skiers and powder seekers — and it is this extensive backcountry selection that bumps it onto the list. A third mountain was added in 2013, increasing the skiable area by 1,000 acres. So if you're looking for lots of off-piste terrain to explore, Red Mountain should be at the top of your list.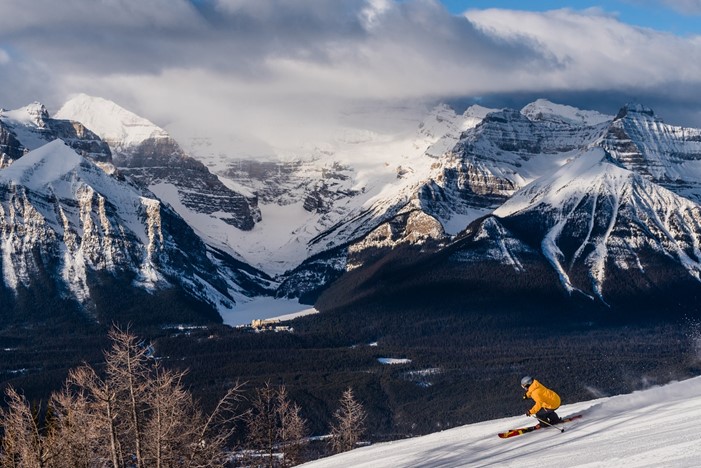 Credit: Reuben Krabbe
Tied with Red Mountain is Lake Louise Ski Resort, in Banff, Alberta. Lake Louise is one of three resorts to make up the Banff Big 3. Offering stunning views of the Canadian Rockies over Lake Louise, this is a truly scenic destination with great snow conditions and one of the longest ski seasons in North America.
Lake Louise's neighbour, Sunshine Village, also offers 3,514 acres of terrain, so if you're looking for maximum space to explore, then a Ski Big 3 pass is your best bet! This pass will provide access to over 9,000+ acres, including Lake Louise, Sunshine Village, and Mt. Norquay.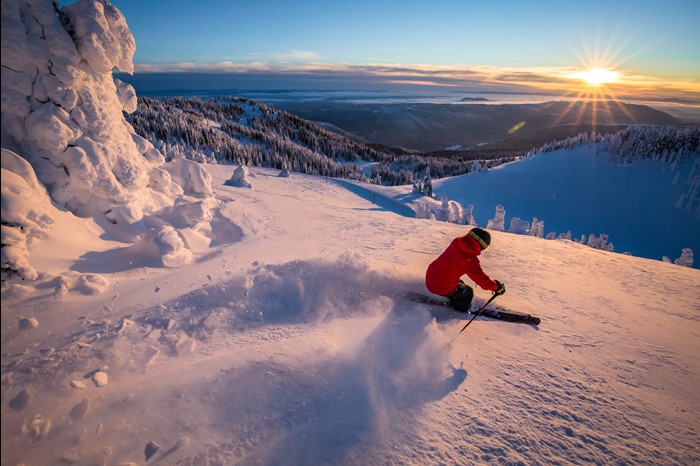 The second-largest ski resort in Canada is located in the Thompson-Okanagan Valley, a short distance from Kamloops. Sun Peaks is an almost entirely ski-in ski-out resort with three mountains accessible from your doorstep. This destination offers stellar amenities and a range of terrain that's perfect for the whole family.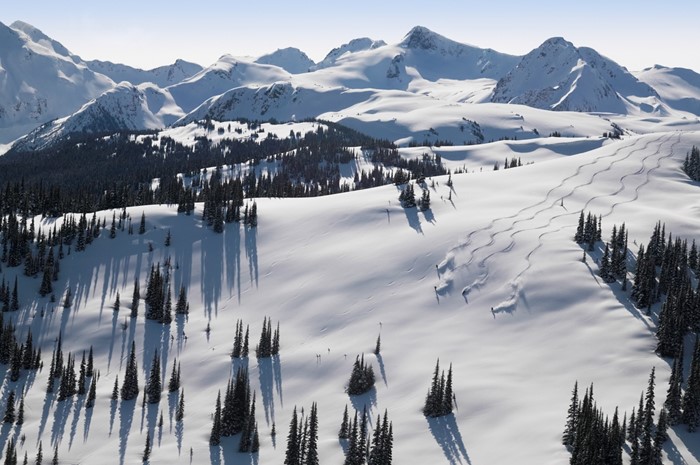 Credit: Randy Lincks
There should be few surprises when it comes to the largest ski area in Canada. Whistler-Blackcomb has become an iconic destination for skiers around the world, with an established reputation as the biggest resort in North America — and no one seems to be anywhere close to catching them.
With terrain spread across the two neighbouring peaks of Whistler and Blackcomb, easily accessible from an expansive network of lifts and gondolas, this resort has no true competitors for its crown. Explore its bowls, glades, mogul runs, and cruisers for yourself — we promise that you won't get bored!
Biggest Ski Resorts in the United States
While Canada may boast North America's biggest ski resort, our neighbours south of the border are definitely trying to catch us. 
After Whistler, the next five or six biggest resorts are all located in the United States. So if you're looking to check out more resorts with lots of terrain, then it may be time to explore some American ski destinations this season!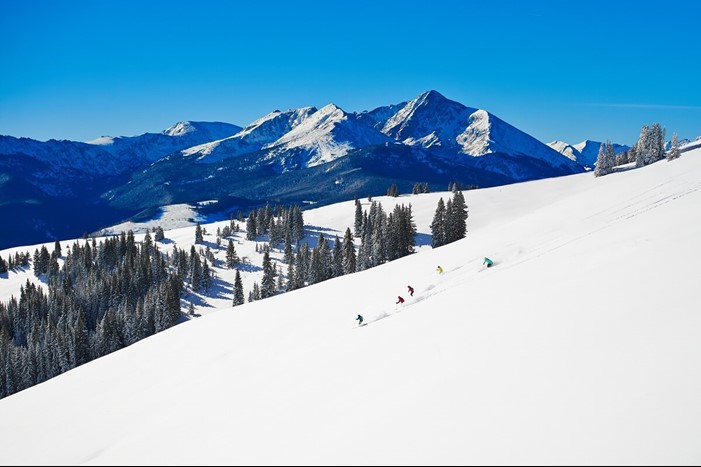 Credit: Jeff Affleck
In the heart of Colorado, Vail is not only one of the largest ski resorts in the United States, it's also a legendary destination for skiers. Styled after traditional European ski villages, the town of Vail was purpose-built for skiing and continues to offer one of the biggest skiable areas on the continent. 
The resort includes seven bowls and numerous glades in the expansive Blue Sky Basin, as well as countless groomers, cruisers, and more. It is also close to the nearby resort of Beaver Creek, which offers an additional 1,815 acres of terrain to explore — if you feel like a day trip.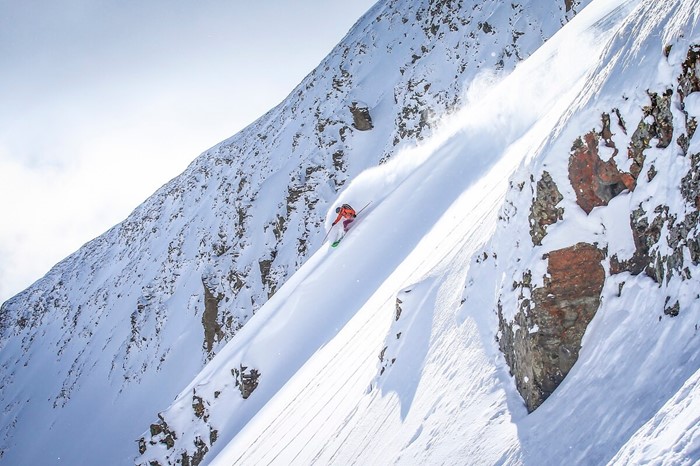 Credit: Jeff Engerbretson
When a resort brands itself as 'the biggest skiing in America', you expect lots of terrain — and Big Sky delivers. With over 5,800 acres of terrain, huge vertical, and one of the top annual snowfalls in the Rockies, this destination makes good on its promises.
Book your trip today to explore this ski destination in Montana, and experience the biggest skiing in America for yourself.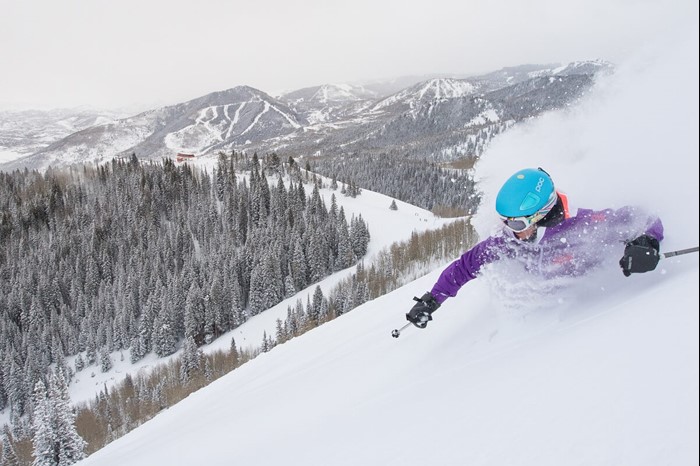 Credit: Elisabeth Biebl
The biggest ski area in the United States, Park City is located in the American Rockies overlooking Salt Lake City. Park City and the neighbouring Canyons Resort merged in 2015 to offer a combined 7,000+ acres of ski and snowboard terrain. This massive winter playground is conveniently accessible to visitors travelling from Canada or elsewhere in the States, via Salt Lake International Airport.

Do you want to explore the biggest ski resorts in North America? Book your ski vacation with Skican today.