If you're an expert or advanced skier, there is something almost magnetic about the draw of big vertical terrain. 
Once you've experienced the adrenaline rush of your first massive vertical run, you may find yourself starting to crave that next challenge; wanting to find the next big peak to conquer. Or, you may be curious to see how your current favourite stacks up, compared to the other giants in North America.
Whether you're looking for a future destination or just satisfying your curiosity, this list will provide a breakdown of the eight ski resorts with the biggest vertical drop in North America. Scroll down to find out who sits at the top!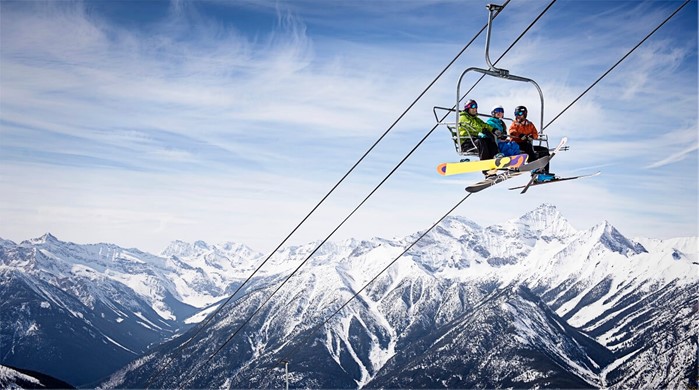 Source: Panorama Mountain Resort
The first resort on our list (with the eighth biggest vertical overall) is Canada's own Panorama, a versatile mountain playground that combines family-friendly cruisers with challenging vertical terrain. 
Located in Western B.C. on the Powder Highway, Panorama tends to fly beneath the radar. While it may have less of a reputation than some of its neighbours, Panorama makes up for this with great amenities, short lift lines, and amazing terrain. 
From its breathtaking views to its easily-accessible heli-skiing, there are many ways to enjoy this burgeoning B.C. resort.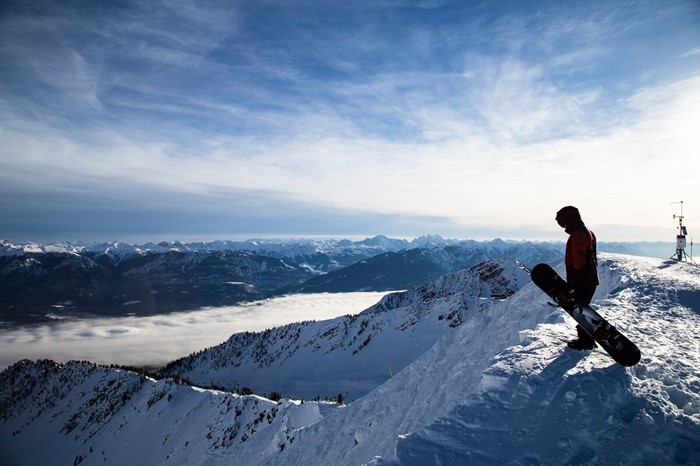 Credit: Brandon Hartwig
Our next resort on the list is Panorama's northern neighbour, Kicking Horse. 
Located just outside the idyllic ski town of Golden, B.C. and close to Banff National Park, Kicking Horse is well-known for its expert terrain, champagne powder, and, of course, its incredible vertical terrain. 
If you're looking for an adventure on the slopes, Kicking Horse is a great choice!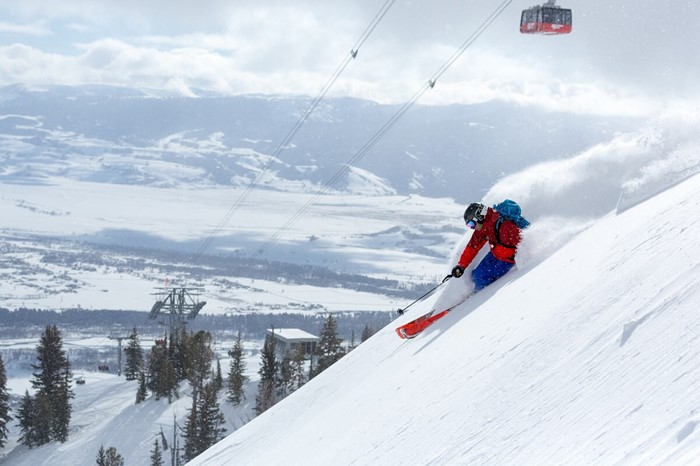 Source: Alterra Mountain Co.
The first American resort on our list is the famous Jackson Hole, a well-known destination for expert and advanced skiers. 
Nicknamed 'the Big One', Jackson Hole has a long-standing reputation for big vertical and steep terrain! The legendary Corbet's Couloir is often touted as the most challenging in-bounds run in North America — try it for yourself when you book at trip to Jackson Hole.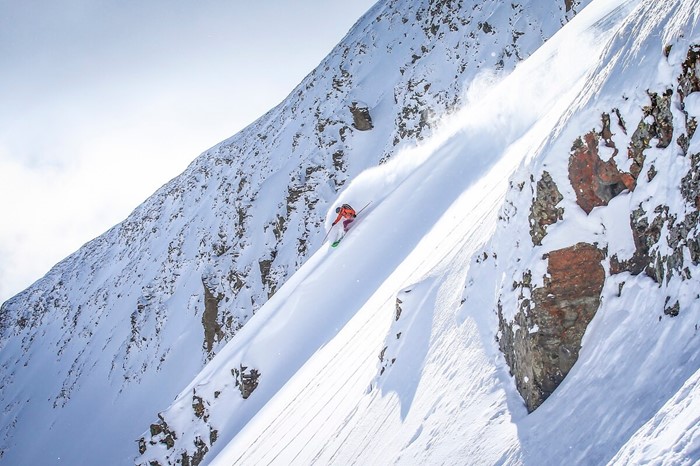 Credit: Jeff Engbretson
At the halfway mark of our list sits Big Sky, home of 'the biggest skiing in America'. 
Set near the border of Yellowstone National Park in the wilderness of rural Montana, Big Sky offers some of the most consistent snowfall in the Rockies and a vertical drop comparable to many of the more highly ranked resorts on this list.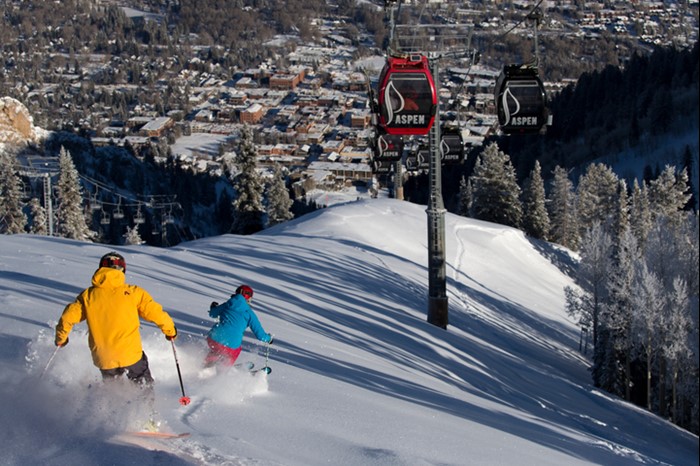 Credit: Lindsay Fortier
Coming in second for the biggest vertical drop in the States and fourth overall is Snowmass, the largest mountain in the Aspen-Snowmass family. One of the most famous winter resorts in the world, Aspen-Snowmass is set in the heart of the Colorado Rockies, a few hours west of Denver.
While Snowmass is the resort's biggest peak, the other mountains in the Aspen-Snowmass family are no slouch. Aspen Highlands, Aspen Mountain, and Buttermilk clock in at 3,635 ft., 3,267 ft., and 2,030 ft. respectively. Explore them all together when you book a trip to this iconic U.S. ski destination.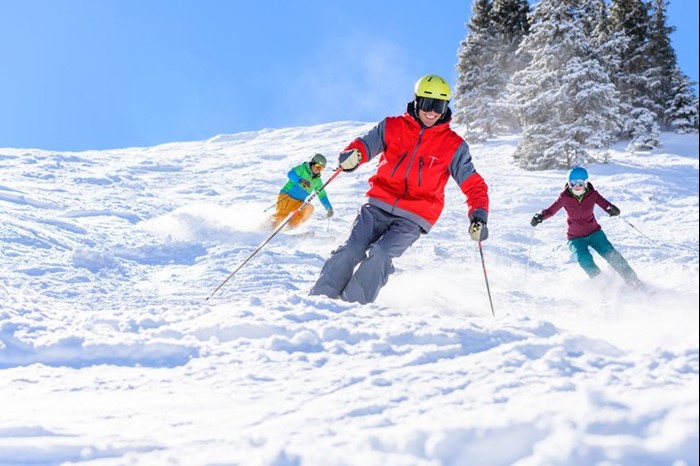 Credit: Sonja Ames
Taking the crown for biggest vertical drop in the United States is the classic mountain town of Telluride. 
Located in the San Juan Mountains of Colorado, near the border with New Mexico, Telluride is surrounded by the highest concentration of 13,000 ft. and 14,000 ft. peaks in the United States — so it is no wonder that it boasts such great vertical!
Often hailed as the 'coolest ski town in America', Telluride offers small town charm and scenic natural beauty in equal measure. You'll come for the exceptional ski terrain and stay for the ambience at this unique U.S. ski resort.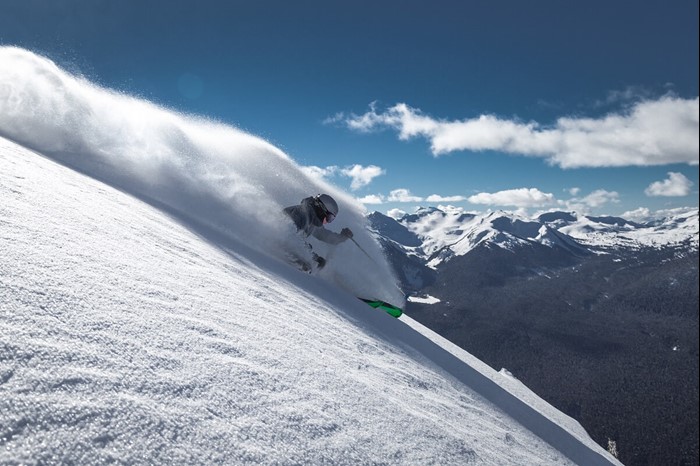 Credit: Paul Morrison
Not only is Whistler-Blackcomb the biggest resort in North America (by skiable terrain), it is also the resort with the second highest vertical drop in the continent at an impressive 5,280 feet. These incredible numbers truly put Whistler in a different tier when it comes to size, exceeding the next highest contenders by over 800 feet.
If you're looking for the biggest vertical terrain while you're on the slopes, you'll find it in the Blackcomb section of the resort. Blackcomb's neighbouring mountain, Whistler, has a vertical that tops out at 5,020 feet, which nevertheless puts it well above the nearest competition.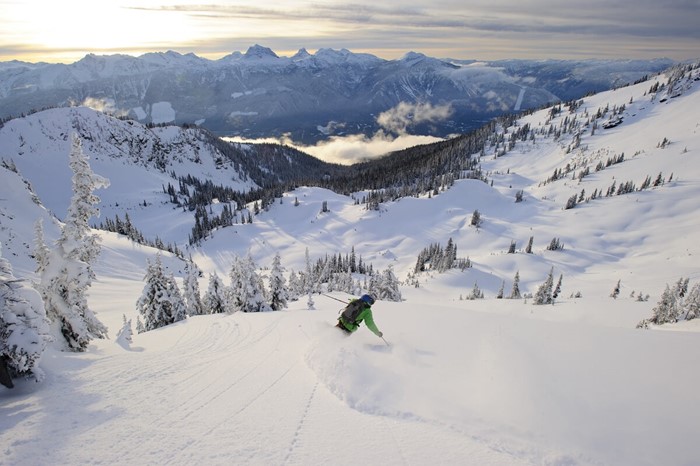 Credit: Garrett Grove
The king of vertical in North America happens to be one of the newest kids on the block, Revelstoke. Hailed as a paradise for expert and advanced skiers, but only developed as a resort in 2007, the area around Revelstoke has been known as a top destination for cat-skiing and heli-skiing for decades.
Set on the famous Powder Highway, in the heart of interior British Columbia, Revelstoke is quickly earning a name for itself with its amazing terrain and great snow conditions. If you haven't had a chance to experience this outstanding destination for yourself, take the opportunity now!
Want to experience some of the biggest vertical drop in North America? Get a personalized quote for your ski vacation today.