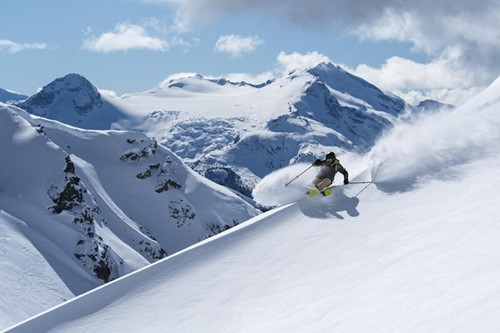 Whistler Blackcomb/Eric Berger
Whistler Blackcomb is North America's largest ski resort, with over 8,000 acres of skiable terrain and a vertical drop of 2,182 metres. There are more than 200 marked runs and 16 alpine bowls, record-breaking snowfall year after year, and ski runs as long as 11km! The ski-in/ski-out village, endless après ski activities, and variety of modest to luxury accommodations, make it an ideal destination for any traveller looking for a mixture of pulse-racing adventure and indulging leisure.
With boundless adventures ranging from family-friendly activities such as snowmobiling, winter ziplining and tubing to nightlife that includes live music venues like The Garibaldi Lift Company or the legendary Garfinkel's nightclub, there truly is something for everyone!
Not only does Whistler offer amazing amenities and experiences, but if you are looking for a bucket list adventure there is nowhere better to check heli-skiing off your list! With over 400,000 acres of terrain hosting 173 stunning glaciers and eleven zones, each teeming with mountain peaks, the opportunities are endless for heli-skiing in Whistler. A trip to this destination on Canada's west coast will give you an eye-opening view of the breathtaking beauty this country has to offer!

If you're looking to experience Whistler's world-class resort, you'll need to prepare now to lock in this early booking offer and save on your trip to Whistler-Blackcomb!
Stepping Up to a Real Mountain
For Ontario skiers seeking a thrilling trail that will give them goosebumps — your options are limited. While Ontario's top ski destination — Blue Mountain — is conveniently located just two hours north of Toronto, it's a pale substitute for a real ski mountain experience.
Adding Perspective: Blue Mountain vs Whistler-Blackcomb
Compared to Blue Mountain, Whistler Blackcomb boasts: 
20x the skiable area — 8,000 acres
5x the ski slopes — 200 to choose from
6x the longest trail — 11km run
85" of snow in November!
Despite the name, 'Blue Mountain' Ontario's largest ski resort is a congested hill on the Niagara Escarpment where you'll spend more time in line than on the slopes. Compared to Whistler Blackcomb, Blue Mountain is to skiing what mini-golf is to golf. 
Off The Slopes
There's no shortage of things to do in Whistler, but what really sets the resort apart from the rest is its dedication to exceptional guest service. Whistler is one of Canada's most notable tourist destinations and the community of local businesses in Whistler Village works hard behind the scenes to ensure your experience is nothing short of amazing.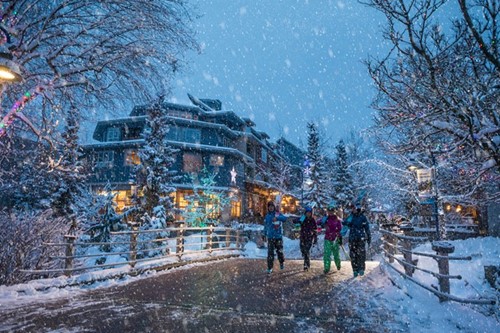 Tourism Whistler/Justa Jeskova
From the 200+ local shops and restaurants to lodgings that provide you with services you'll be raving about long after your trip, Whistler is a destination where you'll experience life to its fullest.
Experience Whistler This Season
There is no need to worry about the uncertainty of international travel — when you can stay right here in Canada! You have the largest ski resort right in your backyard, and it's ready for you to explore.