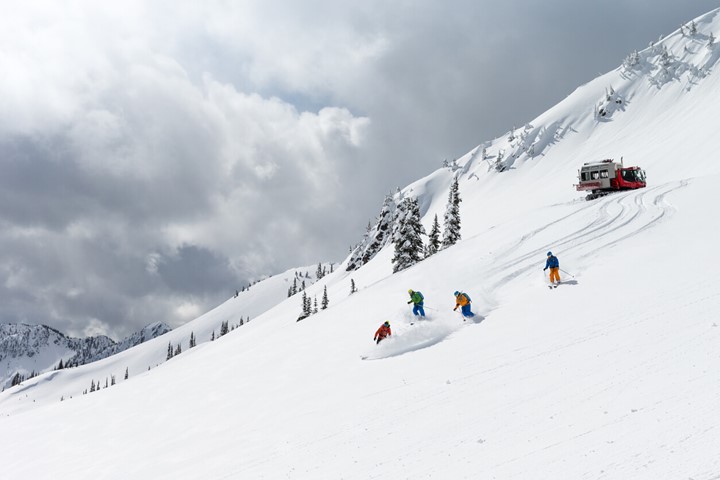 Cat-Skiing
Cat-Skiing may sound daunting, but with the right planning and preparation, it can also be one of the most amazing adventures of your life. Many people never experience cat-skiing because they think it's an adventure reserved for expert skiers — but that's not true.
Our guide will answer all your questions about planning and booking a cat-skiing excursion, including where you'll have the most fun skiing Canada's spectacular backwood terrain.
Table of Contents

What is Cat Skiing?
Cat Skiing is guided backcountry skiing where you adventure outside the boundaries of ski resorts to glide over untraveled powder. Rather than taking a helicopter to access the backcountry, a snow "cat" serves as your lift, resulting in a far less expensive experience than heli-skiing, for an equally breathtaking result.
What to Expect on a Cat Skiing Trip
When you go on a cat skiing trip, you can expect to find some of the most untouched and beautiful terrain. However, since these areas are not patrolled by ski resorts, it is important that you have an experienced backcountry guide with you to help navigate the area. 
Most cat skiing trips will cover a specific zone that the company has permission to use. This ensures that you will have access to the best possible skiing conditions and minimal risk of getting lost. 
Your guide will also be responsible for making sure that everyone in your group is following safety protocols and staying within their abilities. Once you arrive at the cat skiing location, typically your group will be split into smaller groups based on ability level.
This allows everyone to have the best possible experience and ski at their own pace. From there, you will head out into the backcountry with your group and enjoy a day of skiing or snowboarding in some of the most beautiful mountains imaginable. 

Best Places to Cat Ski in Canada
There are a number of great places to go cat skiing in Canada.
Some of our personal favorites include:
Whistler, British Columbia
Revelstoke, British Columbia
Fernie, British Columbia
Red Mountain, BC
Nelson, BC
Whistler, BC
Whistler is one of the most popular ski destinations in the world — and for good reason. The resort town is home to some of the best skiing and snowboarding in North America. Whistler also has a number of great cat skiing companies that offer a variety of different experiences. 
Revelstoke, BC
Revelstoke is another great destination for cat skiing in Canada. What's incredible is that Revelstoke has the longest vertical drop of any ski resort in North America. Set on the famous Powder Highway in the heart of interior British Columbia, Revelstoke is quickly earning a name for itself with its amazing terrain and snow conditions. 
Fernie, BC
Fernie is also one of the most popular destinations for cat skiing in North America. The area is renowned for its deep powder snow, which often falls in abundance due to Fernie's location in the "snow belt" of the Rocky Mountains.
Red Mountain, BC
Red Mountain is located in the mountainous Monashee range which boasts high levels of snowfall and high-quality terrain. You gain access to nearly 20,000 acres of untracked glades and bowls in the beautiful Rossland Range. Red Mountain is known for having one of the world's largest cat skiing operations.
Nelson, BC
The Kootenay region of British Columbia is where four wild mountain ranges and renowned winter weather come together to make one of the world's best snowcat & heli-skiing destinations. With over 40 feet of annual snowfall, the Whitewater Ski Resort outside of Nelson is considered a one-of-a-kind destination.

Types of Cat Skiing in BC
There are a number of different types of cat skiing experiences in British Columbia, depending on what you're looking for. 
Single Day Packages:
The most popular type of cat skiing trip, as they offer a great introduction to the sport without having to commit to an overnight stay. 
Multi-Day Packages
For those looking for a more immersive experience, there are also a number of companies that offer multi-day packages. These allow you to spend more days in the backcountry, exploring different parts of the mountain and really getting to know the area. 
Private Groups
If you have a group of friends or family who want to go cat skiing together, there are also a number of companies that offer private group trips. This allows you to tailor the trip to your group's specific needs and abilities. 
No matter what type of cat skiing trip you're looking for, British Columbia is sure to have something for you. So what are you waiting for? Get in touch with our team and start planning your next adventure today!
FAQs
How to Book Cat Skiing? 
The best way to arrange a cat skiing trip is through a reputable tour company. This will guarantee that you have an experienced and professional guide leading your excursion. To assist you in selecting an adventure, contact our staff. We partner with reliable cat skiing operators to ensure that your journey is both safe and organized.
Is Cat Skiing Worth It?
Absolutely! Cat skiing is an incredible experience that allows you to enjoy the best of what the backcountry has to offer. While it may be slightly more expensive than lift-accessed skiing, the experience is well worth the extra cost. 
Is Snowcat Skiing Safe?
There are risks in every sport, and cat skiing is no exception. With that being said, cat ski operations are very well managed in BC. While the biggest safety concern is the threat of an avalanche, several operations use blasting to reduce risk, while others employ slope avoidance techniques for less risk of avalanches. 
How Much Does Cat Skiing Cost?
Prices for a day of cat skiing typically range from $400 to over $1,000 depending on the location and difficulty of the terrain. For most people, the cost is well worth it for the incredible experience. 
How Well Do You Need to Ski to Go Cat Skiing?
You don't have to be an amazing technical skier, but you will need to be comfortable maneuvering off-piste terrain and powder snow. Before you sign up for the adventure, make sure you are physically fit enough to ski or snowboard for a full day in the backcountry. 
When is the Best Time to Go Snowcat Skiing? 
The best time to go cat skiing is typically mid-December through mid-April. This time frame gives you the best chance of deep powder snow and excellent weather. 
How many people can go cat skiing at once? 
This typically depends on the size of the cat and the number of guides leading the trip. Most cats have enough space to accommodate up to 12 skiers or snowboarders, but this may vary depending on the company you book with. 
When did Cat Skiing Start? 
Cat skiing began in North America in the 1960s as a way for people to access backcountry powder without having to hike long distances.