Friday, June 22, 2018 - Few experiences in life compare to the adventure and excitement of your first ski trip — and it only gets better with time.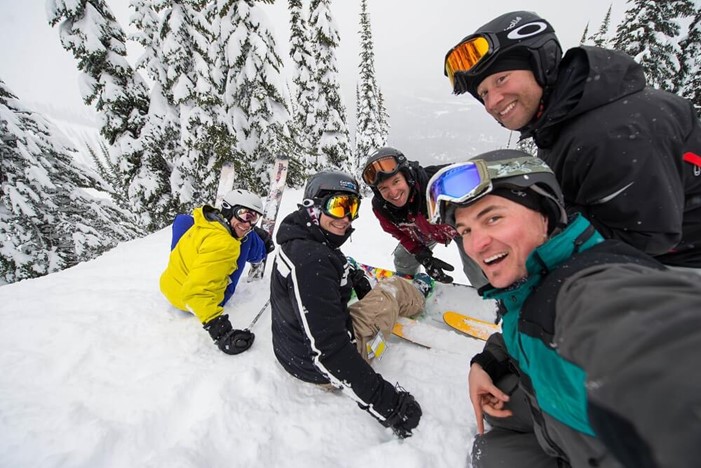 Few experiences in life compare to the adventure and excitement of your first ski trip — and it only gets better with time. Once you get the skiing 'bug', it's something that will stay with you for the rest of your life.
Skiing is an excellent way to experience the great outdoors, stay active in the wintertime, and perhaps most importantly, it's a terrific social activity. A ski trip is the perfect way to bond as a family, reconnect with a group of friends, or meet new people who share your passion for the sport.
If you're planning your first ski trip, there are a number of things that you should be aware of and prepare for. At Skican, we specialize in building ski vacations for friends, families, solo travelers, or groups. We're here to guide you through the process and deliver the ski vacation that's perfect for you.
What to Expect | Your First Ski Trip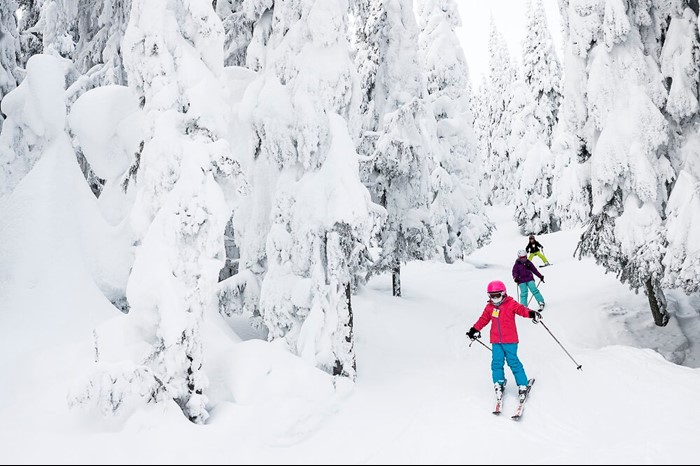 If you're about to embark on your first ski trip, you're probably wondering what to expect. At Skican, we've heard almost every concern or question from customers. Let's break down some of the most common misconceptions and myths about skiing:
Is skiing is weather dependent?
While it's true that weather does have an impact on your trip, most major ski resorts are located in mountainous areas where there is very consistent snowfall throughout the winter months. Most resorts will also have sophisticated snow-making equipment that allows them to keep the hill open, even if they haven't had a recent snowfall.
If you're an advanced skier, you may wait with baited breath for that huge dump of powder — and wake up early to get first tracks. In this type of situation, weather may affect your experience, but it's unlikely to prevent you from getting out on the hill.
Weather can impact your ability to reach the resort on time, either by plane, rental car, or shuttle from the airport. Keep an eye on the weather during travel and plan for contingencies should a snowstorm occur.
Will I be cold on the ski hill?
As you'll soon discover, skiing is a very active sport! You may be a bit cold on the chairlift ride, but once you get moving, you're likely to be hot, and even sweaty.
The best way to prepare for the cold is to bring many different layers of clothing. Layers will allow you to add or remove clothing to stay a comfortable temperature, depending on the day or your current level of activity. Check out our packing section below for more details.
If I'm new to skiing how can I start learning?
If you or someone on your trip is new to skiing, the best way to get started is to take skiing lessons with a professional instructor. It can be difficult to learn to ski with friends or parents, as more advanced skiers will often forget the basic techniques and misjudge what you're capable of doing.
When starting out, it's important to build your confidence gradually. Skiing can be an intimidating sport. If you lose control on the hill and crash, it can take a while to get back to your previous level of comfort. That's why we always recommend lessons for first time skiers.
Should I be nervous about riding a chairlift for the first time?
It's totally normal to be nervous about your first chairlift ride. Most people remember being scared when they went on a chairlift for the first time, but you will get used to it.
What's important is to find someone who can help guide you through the process. Find a buddy who will show you what to do with your poles, lower the bar for you, and be there to assist you with the dismount.
It's okay to ask the lift operator to slow the lift down when you're getting on. Just tell them that you're new to skiing.
We also recommend that you avoid t-bars or pommel lifts (if your resort has them), until you've had a bit of experience on your skis. These old school lifts can be frustrating and tricky to navigate if you're a beginner.
How will I find my way around the ski resort?
When going to a ski resort for the first time, make sure that you get a piste map or trail map. You will typically be given these maps when you pick up your lift tickets.
A piste map is an essential guide to a new resort — even for experienced skiers. Check for trail signs when you get off the top of the lift to help you get started.
We also recommend doing some research on your resort ahead of time. Some preparation in advance will help you make the most of your vacation and the exciting adventures to come!
Can I book a ski trip at the last minute?
While many people decide to book ski trips at the last minute, we always recommend that you plan your ski trip as far in advance as possible.
Booking early is the best way to get your choice of lodgings, secure early bird deals on lift tickets, and find cheap flights to your destination. Need more reasons to book early? Read our blog on early bookings to learn more.
How to Plan Your Ski Trip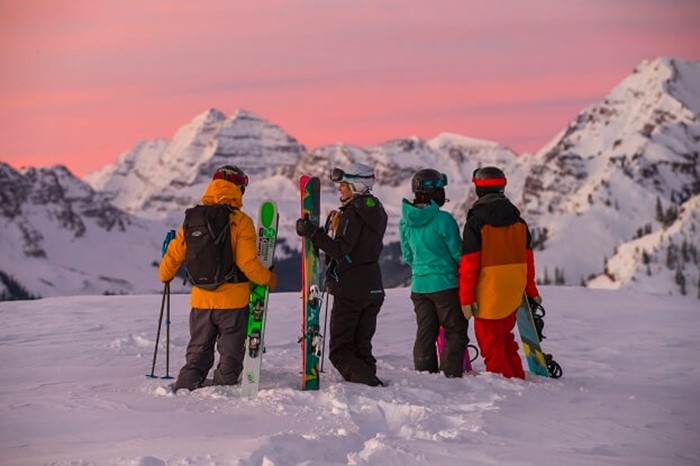 Planning a ski trip can be a major endeavour. You'll need to make many decisions about where to go, where to stay, when to book, and much more! Here's how to get started:
Choose your resort. The first step in planning your ski vacation is picking a destination. Start by figuring out whether you want to ski in Canada, the United States, Europe, or somewhere more exotic.
Select your lodging. Once you've narrowed it down to a single resort, you'll need to start looking at accommodation. Find out whether you want ski-in ski-out lodgings, decide on your budget range, and then see what fits your lifestyle!
Book your flights. It's important to book flights early to ensure that you don't spend too much on airfare. Start thinking about flights after you finalize your lodgings.
Plan lessons, lift tickets & more. After you have flights and lodgings planned, you'll need to start thinking about the details. Do you want lessons? Will you be renting or buying ski equipment? How are you getting from the airport to the resort? Make sure you plan and buy early to take advantage of early bird offers.
Follow these simple steps and you'll be on the right track to planning your ski trip. If you'd like help with the process for the first time, we can plan it for you — get a free, personalized quote from our team today.
Packing for a Ski Trip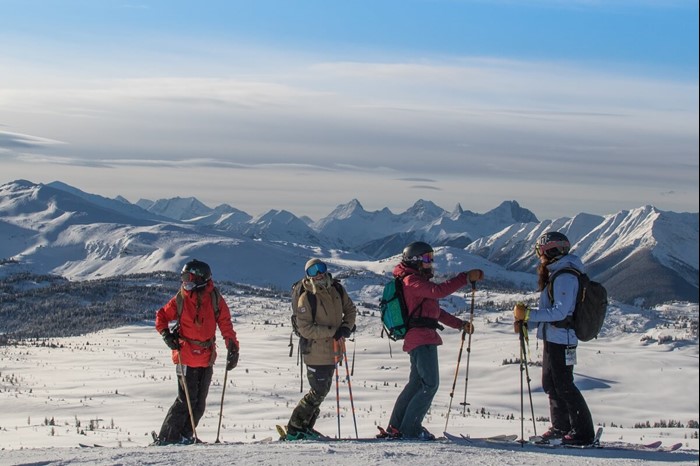 Packing for your first ski trip can be a challenge for new skiers. If you've never been on a longer ski vacation before, you may not know what you'll need or what situations you'll encounter.
You want to ensure that you will be warm, dry, and comfortable while you're on the slopes, so it's important to be prepared for all situations. Although everyone has their own preferences, we have put together a list of what we'd recommend bringing on a ski trip below. We hope that it's helpful!
What Gear Should I Bring?
Snowsuit. The most essential piece of your skiing wardrobe is a warm, water-resistant snowsuit, either a separate jacket and snowpants or a full-piece snowsuit (or onesie). Don't skimp on this — you want a good jacket, preferably with a hood, and warm pants.
Base layers. We typically suggest finding a synthetic/non-cotton, moisture-wicking, and breathable base layer (both shirt and pants). This base layer is often colloquially referred to as 'long underwear'. For a longer trip, it helps to have two sets, so you have an extra if the first gets wet or needs to be washed.
Mid layers. It's helpful to have a moisture-wicking and breathable mid layer to stay warm on cold days. This can be a fleece or wool sweater that is optional and easy to remove on warmer days.
Socks. Good socks are incredibly important for keeping your toes warm on cold days, especially with rental ski boots. Find some warm wool or synthetic ski socks that are moisture-wicking and breathable — and bring multiple pairs. Your socks will get stinky. You'll want to change them.
Gloves or mittens. A good pair of warm gloves or mittens is another essential part of your ski gear. There is some debate about which is better; mittens tend to be warmer, while gloves offer more dexterity. It's up to you to choose — just remember that if your fingers aren't warm, you won't have much fun.
Helmet. Make sure you invest in a good, well-fitting helmet. Even experienced skiers will have a bad tumble sometimes and a helmet will ensure that you stay safe.
Goggles. If you've never been skiing before, you may not understand how difficult it is to ski without goggles. Goggles shield your eyes from blowing snow, allow you to see in flat light conditions, and protect you from harmful UV rays. Ever seen a ski goggle tan? It's a thing.
Outerwear. Most skiers will bring extra outerwear to keep your face and head warm. Depending on the conditions, this can include a balaclava, face mask, neck warmer, or all of the above. In cold weather, this gear can be essential at preventing frostbite and allowing you to keep skiing.
Ski Equipment. It almost goes with saying, but if you own ski boots, poles, or skis then you should bring them with you. Even if you decide to rent skis, it helps to have some of your own gear as well.
What Else Should I Bring?
Bathing suit. Got a hot tub in your hotel or chalet? Bring a bathing suit so you can go for a soak after a long day on the slopes. You'll thank us later.
Hand warmers. While they're not for everyone, hand warmers can be great for those long chairlift rides — especially if you have young kids for get chilled easily. Pack a few pairs as an emergency.
Water and snacks. If you don't want to make frequent stops, it helps to bring a water bottle and some snacks to stay hydrated and energized on the slopes. The chairlift line is a great spot to bust out these goodies for hungry kids. We recommend granola bars, trail mix, and other portable foods.
Portable phone charger. Going to be splitting up on the hill? Make sure that your phone doesn't die on you. Portable phone battery chargers cost between $15 and $40, work with USB cords, and can provide an emergency option for getting in touch with friends and family.
Backpack. Where are you going to carry everything on our list? While you may decide to stuff things into your pockets, we've found that it's helpful for one member of your group to bring a small backpack.
Looking for somewhere to buy ski gear in Ontario before your trip? Try visiting Corbett's Ski + Snowboard, located in Oakville, for great deals on ski and snowboard gear, accessories, and apparel.
« Back