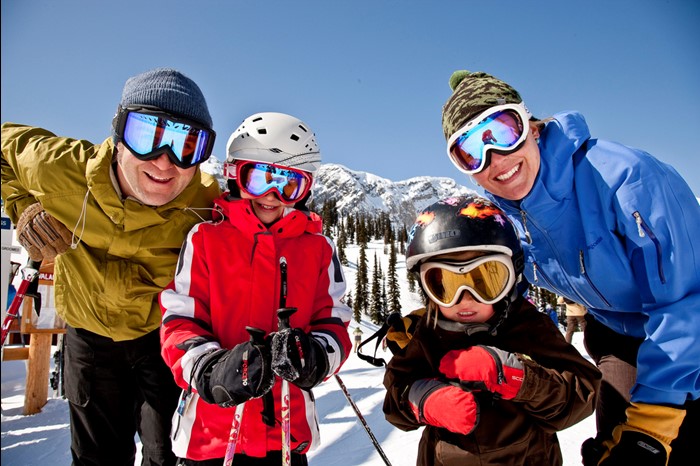 Are you looking for March Break ski deals in Canada?
At Skican, we specialize in building all-inclusive ski vacations for families. Our packages typically include lodgings, lift tickets, airport transfers or rental cars, and more. If you're looking for a March Break ski deal for your family ski trip in 2019, we have a wide range of ski specials to choose from!
Find out about our March Break ski packages below, learn about our favourite resorts for spring skiing in Canada, and much more!
Skiing in Canada in March
March Break is a favourite time for winter-loving families in both Ontario and Quebec to migrate west and experience big mountain skiing for a week. Whether you're going for the first time or you take regular March Break ski vacations, it's important to plan your trip ahead of time.
If you have school-aged children, March is a great time for a family ski vacation for many different reasons. For one thing, it can be challenging to schedule time to go skiing over the Christmas holidays or difficult to find another week that both kids can take off school.
For another, spring in the Canadian Rockies offers amazing snow conditions for skiers and boarders, along with milder weather that allows you to shed a few layers on the slopes. Resorts in Alberta and interior British Columbia continue to get snowfalls late into the season. As a result, destinations like Banff & Lake Louise, the Thompson-Okanagan Valley, and the Powder Highway are favourite spots to visit for spring skiing.
Unfortunately, their popularity means that spots fill up quickly at these ski-in ski-out resorts during March Break. If you're thinking of going on a March Break ski trip in Canada, it's important to book several months early to guarantee a good spot for you and your family. Booking early is also a great opportunity to save on airfare, lodgings, lift tickets, and more!
Our March Break Ski Packages
If you are looking to save on your March Break vacation, Skican offers a variety of ski packages for families in both Ontario and Quebec.
These packages are specifically designed to cater to families with school-aged children and are available at some of the top family ski resorts in Western Canada. These specials are offered during the Ontario and Quebec March Break holidays for 2019 — so you don't have to worry about scheduling.
Learn more about what is included in these March Break ski packages below: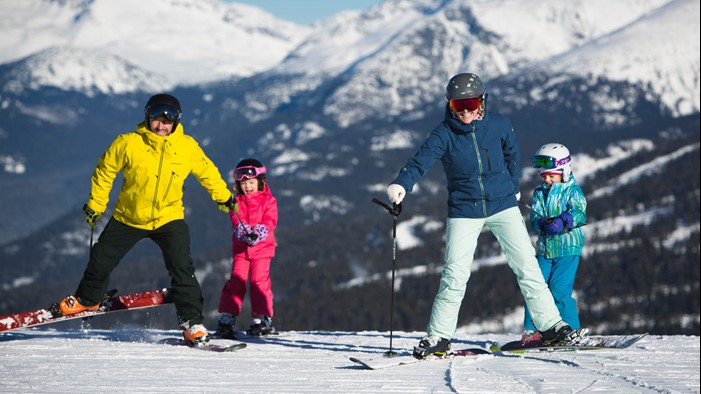 Family ski trip for the Ontario March Break period.
Rates starting from:
Adult — $1499
Youth (13+) — $1460
Child (12 and under) — $1290
Ever wanted to take your family on a ski trip in western Canada?
Skican and Panorama have joined forces to create an exceptional experience for families at an exceptional price: picture the perfect winter playground, condo units with kitchens for easy meals, access to Panorama Springs Pools, and ski-in ski-out all set against the majestic backdrop of the Canadian Rockies.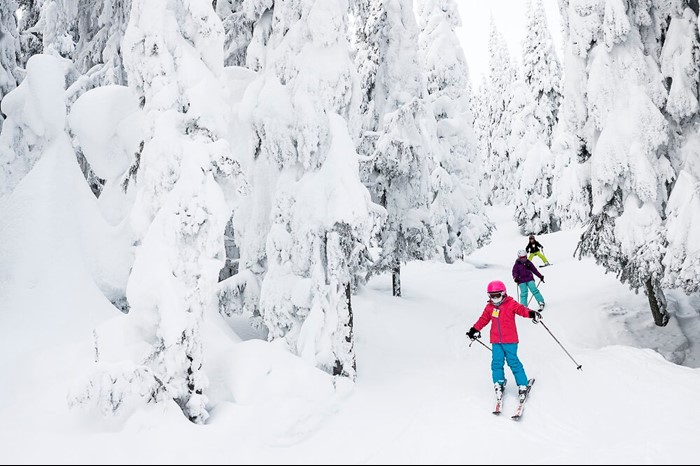 Family ski trip for the Ontario March Break period.
Rates starting from:
Adult — $1850
Youth (13+) — $1780
Child (12 and under) — $1475
Silver Star is located in the heart of the Okanagan, only an hour away from the Kelowna airport. This resort attracts every level skier with their varying terrain, great snow, and a charming ski-in ski-out village. They offer a unique pass for families that includes access to downhill skiing, cross-country skiing, tubing, skating snowshoeing, and fat biking trails.
The mid-mountain Victorian-themed village offers a number of restaurants, bars, and activities off the hill to keep everyone happy and busy. The front side of the mountain has runs for all levels and the backside (the 'dark side') will be fun for intermediates and thrill seekers.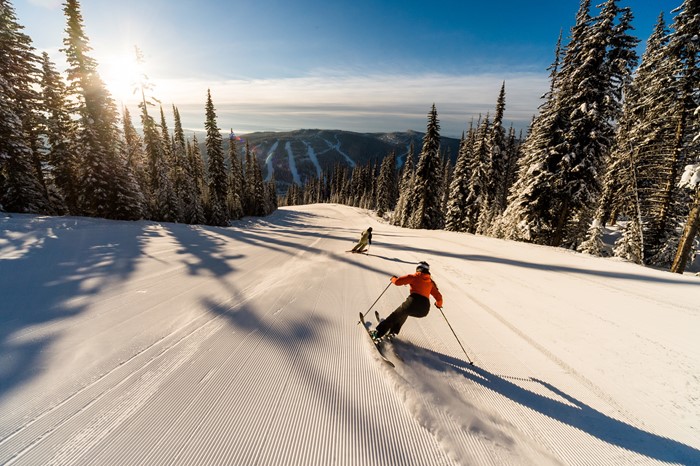 Family ski trip for the Quebec March Break period.
Couple/Family Rates:
Couple — Two Adults — $1750 per person
Family — Two Adults, Two Kids (5-12 years) — $1445 per person
Sun Peaks is a superb destination for families with younger children. This resort is Canada's second-largest ski area with 4,300 acres spanning three mountains, including an inbounds backcountry experience and a wide variety of terrain to explore.
Enjoy dry snow and sunshine at this predominantly ski-in ski-out resort near Kamloops BC. Their pedestrian village will satisfy all of your needs for food, entertainment, shopping, and other adventures!
Other Spring Skiing Destinations in Canada
If you're looking for other options for spring skiing in Canada, check out these popular ski destinations for March Break.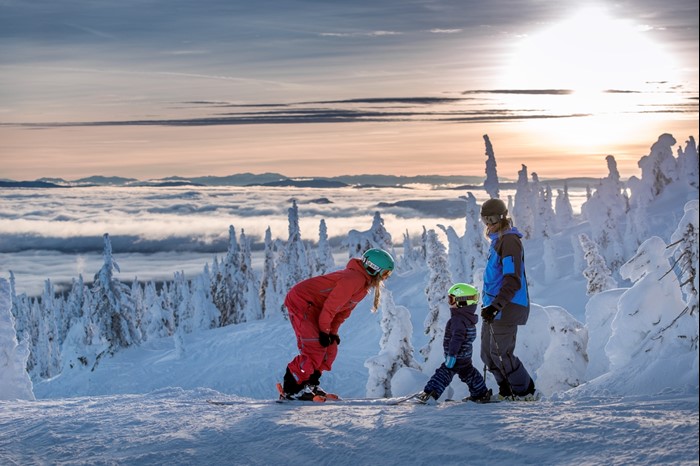 Week-long spring ski special for groups of all ages.
Rates:
Adult — $785 per person
Big White is another popular Thompson-Okanagan Valley resort that is consistently ranked as one of the top powder destinations in Canada. It is also Canada's largest totally ski-in ski-out village and is a top favourite among families.
This spring skiing special includes seven nights of accommodation in Big White, six days of skiing, and return transfers from Kelowna airport. It's a great option for couples or families looking for an affordable spring ski vacation.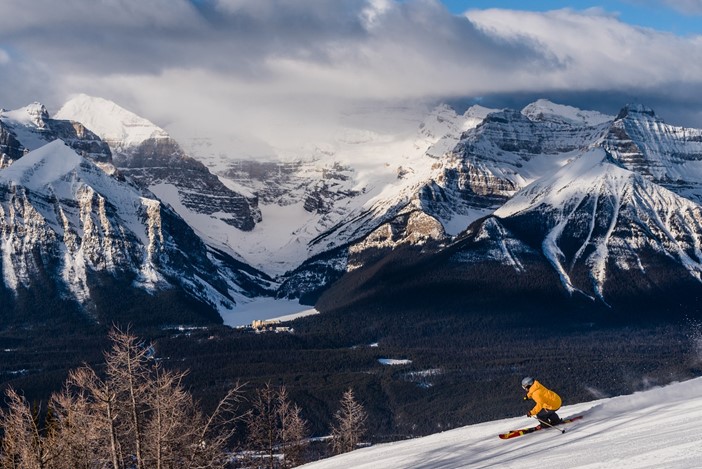 Early booking deals on lodgings and lift tickets before Nov 30.
Banff & Lake Louise is a great destination for skiers and boarders who are looking to enjoy great conditions later in the season. Banff is well-known to have one of the longest skiing seasons in North America, thanks to its locations on the eastern edge of the Canadian Rockies
Located in the UNESCO World Heritage site of Banff National Park, Banff & Lake Louise promise amazing scenery and a world-class experience for all visitors. Don't miss out!