A direct flight from Ontario, and just 45 minutes from the Kelowna International Airport,
Big White
is well-known for its signature Okanagan Champagne Powder, great snow conditions, and entirely ski-in ski-out alpine village.
Beyond the epic snow, there are plenty of other amazing things that set Big White apart as Canada's Favourite Family Resort. Make your family getaway one to remember by trying a few of these family-friendly activities on your visit to Big White this winter. 
1. Take a Horse-Drawn Sleigh Ride (Brunch or Dinner Included)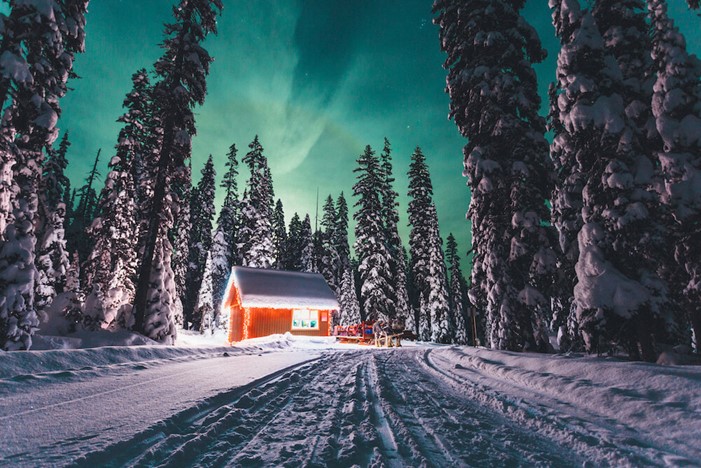 Cuddle up under a blanket, feel the snow fall lightly on your face, hear the jingling of sleigh bells, and the crunch of snow under a horse's hooves, while you meander your way through the forest — all the way to a picturesque cabin where a gourmet meal awaits. 
Big White's horse-drawn sleigh ride, with gourmet dinners or brunches, are one of the most popular activities at the resort — so be sure to book your one-of-a-kind experience in advance! This delightful culinary event is a great way to have an authentic experience in the mountains. 
2. Get Out for First Tracks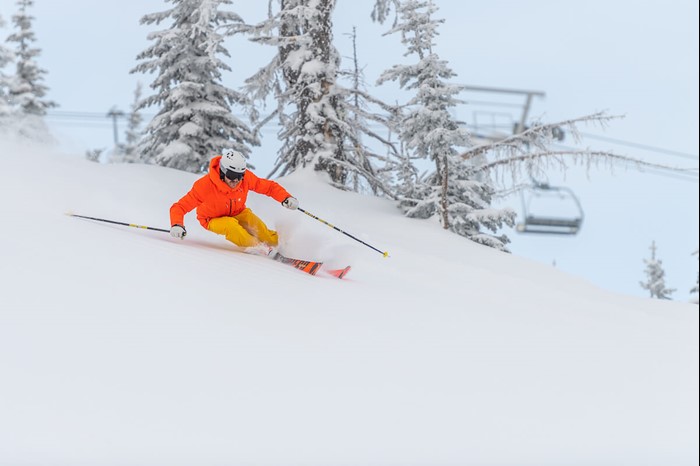 Big White's Okanagan Champagne Powder is one thing — skiing the dry, fluffy snow early in the morning after a big snowfall is something else completely. 
Big White's First Tracks lessons are a great way to enjoy the unforgettable experience of fresh powder, along with a little pampering. Get access to the Ridge Rocket Express Chairlift a half hour before the rest of the mountain and, as a reward for getting up early, breakfast is on the resort!
Enjoy a complimentary meal at the Clocktower Coffee with your instructor in the Village Centre before continuing on with your day. A First Tracks morning is not to be missed!
3. Experience an Authentic Dog-Sled Tour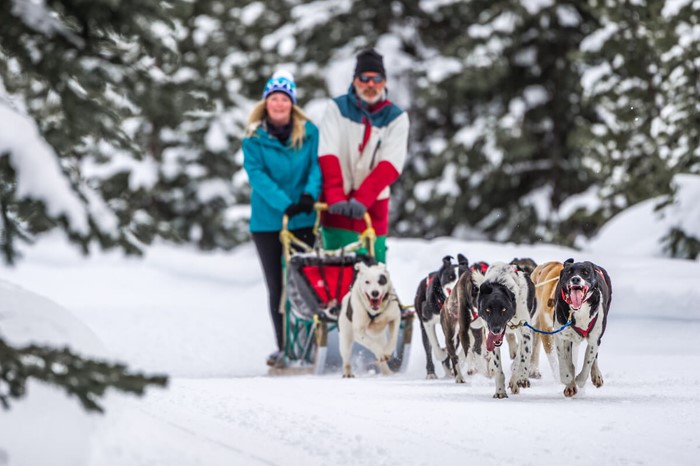 Educational, adorable, and unforgettable – a dog-sled tour is a thrilling and truly Canadian adventure that takes you through stunning scenery and piles of powder. 
Candle Creek Kennels has been operating at Big White for over a decade, and their team will help you get comfortable by introducing you to the dogs, the sled, and the process of harnessing, before heading out on the trails. The tour company is easily accessible from the resort village, located at the bottom of the Beginner's Area in Happy Valley.
Tours are open to children three years of age and older — and passengers aged 14+ can take a turn driving the sled on the trail!
4. Enjoy Tubing with the Whole Family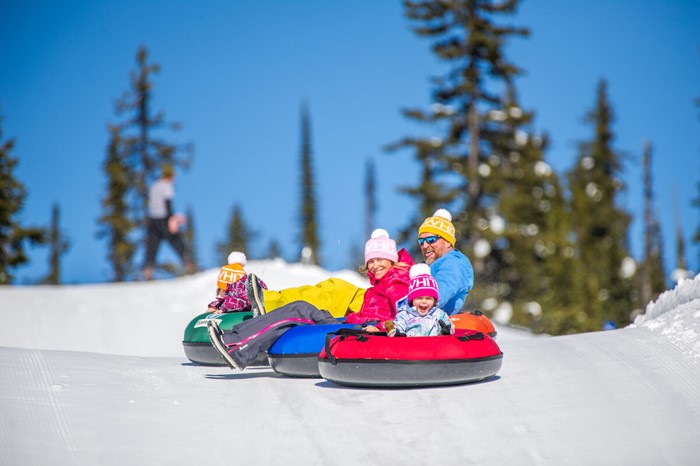 Keep whizzing down the slopes, long after the lifts close, at Big White's five-lane Tube Park in Happy Valley. Tubing is a favourite family activity for both children and adults, and it's a great way to finish your day on the slopes.
Take it easy with a straight-line down, have one of the Tube Park attendants give you a spin, or link up with your friends and family and race to the bottom together. 
5. Challenge Yourself to Ice-Climbing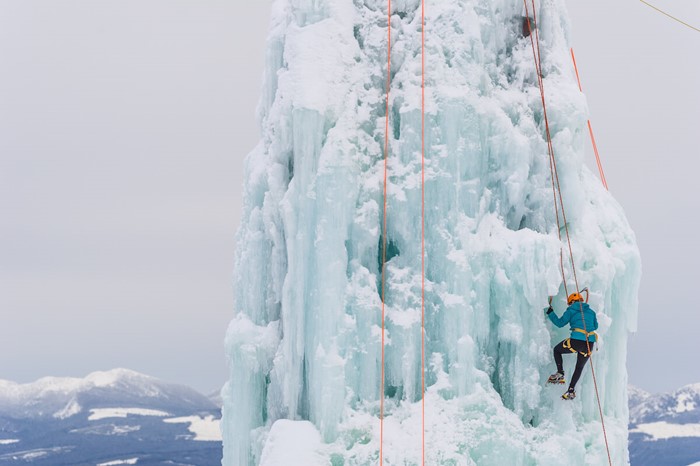 If you're looking for a different kind of excitement, then strap on your crampons — this activity is sure to get your adrenaline pumping! Big White offers a 60-foot ice climbing tower, open to climbers of all ages and ability levels, located in the Happy Valley Adventure Park.
The tower offers four ways to the top, with routes of varying difficulty on each side of the tower. Our fully-trained team will provide you with your ice climbing equipment and show you how to get started. It's a great challenge that the whole family can try together!
6. Cruz the Blues & Explore the Mountain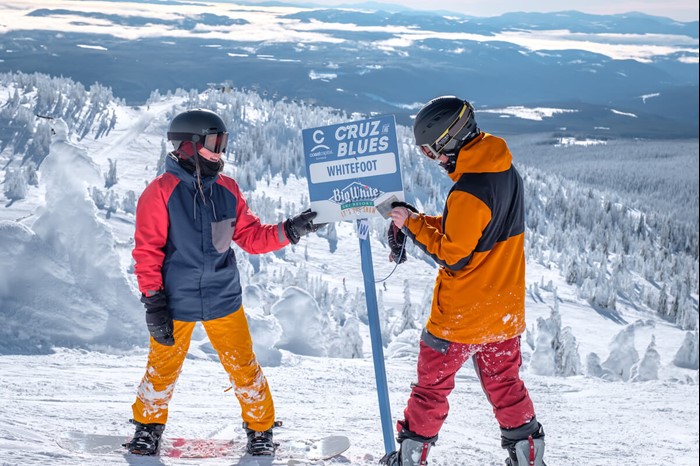 Cruz the Blues is a mountain-wide scavenger hunt that challenges your family to ski every blue run at Big White over a two-day period. 
On each run, you and your family have to search for the Cruz the Blues sign, which includes a secret letter that you need to write down on your boarding pass. Complete the challenge and you'll get the chance to win some awesome swag!
Held multiple weekends throughout the winter, Cruz the Blues is a great way to explore the whole mountain as a family while engaging in some friendly competition.
7. Walk, Wine & Dine in the Village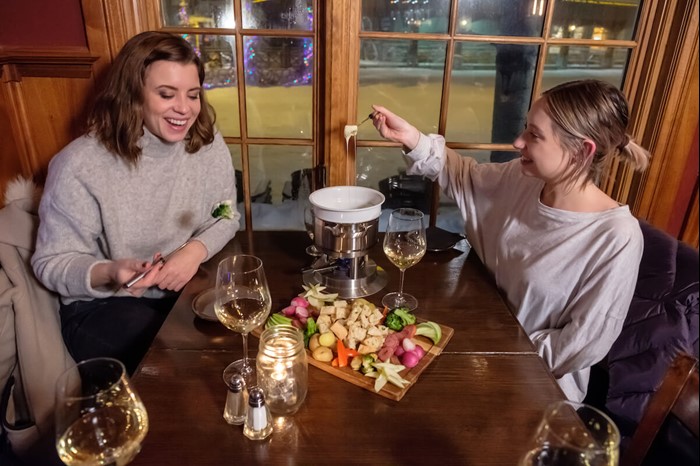 Are you a foodie and wine lover? For this unique activity, three of Big White's top dining destinations have teamed up to offer a culinary experience like no other. Walk from restaurant to restaurant throughout the village, savouring a featured dish and paired Okanagan wine at each stop. 
Bonus option: leave the kids at your accommodation with a Big White Sitter — each sitter is carefully screened and trained — and enjoy a guilt-free, worry-free night on the town with your loved one.
8. Skate on Canada's Highest Elevation Skating Rink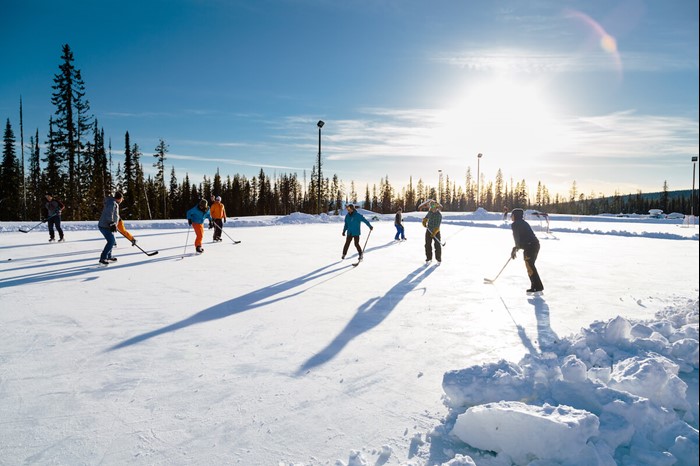 Skate under the stars — or any time of the day — on the highest outdoor skating rink in all of Canada, located in Big White's Happy Valley Adventure Park. 
Rent a pair of skates and go for a leisurely skate, while enjoying the views of the mountains. Or get a hockey stick and challenge your family (or some locals) to a game of shinny! 
The rink is fully lit at night for skating and skaters can warm up rink-side with a free hot chocolate and bonfire on Wednesdays and Saturdays. Plus, every Saturday night you can come to watch a spectacular fireworks display that lights up the sky over Happy Valley.
To experience all of these amazing activities for yourself, start a quote and book your trip to Big White this winter.