Utah is a skier's dream come true, with an unparalleled concentration of major ski destinations waiting to be explored. Whether you plan a week-long vacation or opt for the extraordinary Ski Utah Interconnect Tour, there's nothing quite like it in North America. Imagine experiencing six Utah resorts and the breathtaking backcountry that links them, all in a single day. This 40-kilometer tour, guided by experienced experts, leads you through the backcountry from Deer Valley Resort to Snowbird, taking full advantage of each resort's chairlifts.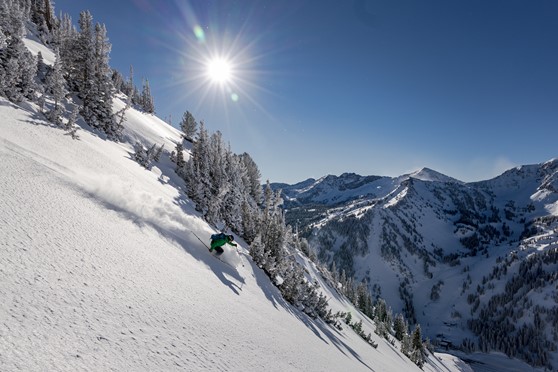 Spectacular views, bountiful powder, and an unforgettable adventure await you as you traverse Deer Valley Resort, Park City Mountain, Solitude, Brighton, Alta, and Snowbird. For those who cherish skiing diversity, Utah offers an unmatched experience. With the convenience of switching between resorts, every day brings a fresh challenge. Get ready to experience the very best of skiing and snowboarding in a landscape that seems tailor-made for winter sports enthusiasts | skiutah.com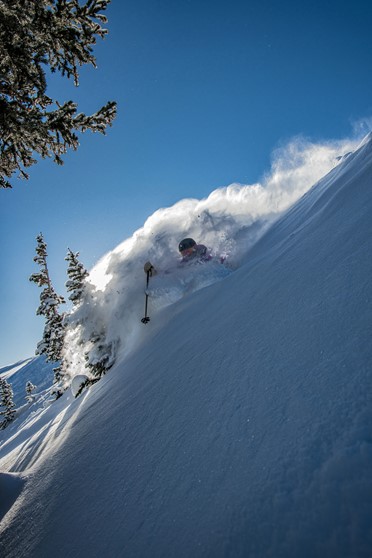 Salt Lake City is where winter magic meets modern sophistication. Nestled beneath snow-capped peaks, this vibrant urban center offers something truly unique. With four world-class ski resorts just a stone's throw away from downtown, Salt Lake is a haven for powder lovers. These resorts, including Alta, Snowbird, Brighton, and Solitude, receive over 13 meters of snow annually, setting the stage for unforgettable skiing adventures. The Ski City Super Pass lets you access these resorts with ease, offering discounted rates and convenient public transit. But Salt Lake is more than just a ski destination; it's a dynamic metropolis with a thriving après-ski scene, world-class dining, and cultural experiences that will captivate your senses. Skiing and snowboarding enthusiasts of all levels will find endless acreage to explore, from the legendary slopes of Alta and Snowbird to the family-friendly terrain of Brighton and Solitude. After a day on the slopes, immerse yourself in the city's lively arts, culture, and culinary delights. Whether you crave adventure or relaxation, Salt Lake has it all | visitsaltlake.com
Heber Valley, a winter paradise like no other, beckons you to experience its unique blend of outdoor adventure and alpine charm. Situated between two world-class ski resorts and a short drive from the Salt Lake City International Airport, this majestic mountain destination offers a gateway to year-round recreation and natural splendor. Beyond the skiing opportunities at Deer Valley Resort and the breathtaking views at Sundance Mountain Resort, Heber Valley's enchanting alpine village will captivate your heart. The backdrop of the stunning Wasatch Back mountains sets the stage for endless outdoor activities, from snowshoeing to cross-country skiing, snow tubing, and biathlon. In the heart of the village, you'll find superb dining options and après-ski experiences that will make your visit truly memorable. But it's not just about skiing and dining in Heber Valley. The Midway Ice Castle, with its mesmerizing LED-lit ice sculptures, and the unique hot spring, Utah Crater, promise one-of-a-kind experiences. Outdoor enthusiasts can explore the historic Heber Valley Railroad, embark on Blue Ribbon fly fishing adventures, or rev up the excitement with snowmobiling. All of this unfolds against a magnificent mountain backdrop, easily accessible by plane or car. Heber Valley is more than a winter destination; it's a realm of special moments and cherished memories, making it a highly sought-after destination for those seeking a truly exceptional winter adventure. | gohebervalley.com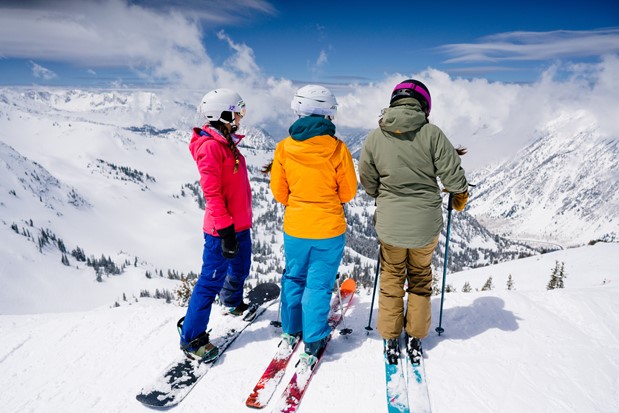 Welcome to the magnificent state of Utah, a land like no other, where natural wonders and world-class skiing converge with breathtaking ease. In Utah, you'll discover a landscape marked by awe-inspiring hoodoos, towering rock arches, and majestic canyons that beckon explorers from around the globe. What's truly remarkable is the accessibility of this pristine wilderness. Just minutes from the hip and vibrant downtown of Salt Lake City, you'll find the Salt Lake City International Airport, your gateway to a skier's paradise. Here, Utah boasts an impressive lineup of 15 major ski resort destinations, with no fewer than 10 of them within a mere hour's drive from the airport. Utah is renowned for its record-breaking snowfalls, with resorts like Alta accumulating an astonishing 22 meters of the finest powder last season. Without a doubt, Utah can confidently lay claim to having The Greatest Snow on Earth®. As you prepare to embark on your Utah adventure, be prepared for a world of skiing and snowboarding experiences like no other. With an abundance of terrain and stunning mountain vistas, you'll be spoiled for choice. And remember, Utah is not just about outdoor bliss; it's also a thriving cultural hub with a burgeoning culinary scene. So whether you're an adrenaline junkie or a city explorer, Utah is your perfect destination | visitutah.com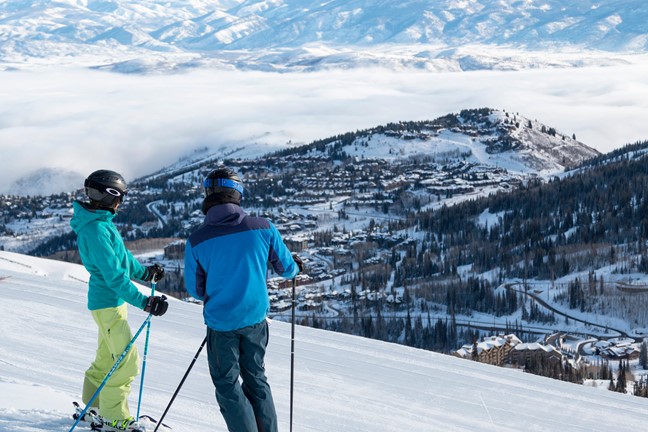 Park City, a winter wonderland where adventure and charm intertwine, awaits your arrival. World-class ski resorts like Park City Mountain and Deer Valley Resort offer pristine slopes for skiers of all levels. Beyond the mountains, historic Main Street beckons with festive lights, boutique shops, and endless dining options. The thrill of winter sports combines seamlessly with the warmth of a welcoming community. As the snow blankets the slopes, Park City transforms into a haven for winter enthusiasts. There's a myriad of activities to choose from, including fat biking, dog sledding, and experiencing The Greatest Snow on Earth®. For those who prefer a more laid-back winter, snowshoeing, and cross-country skiing on scenic trails await. To up the adrenaline factor, don't miss the opportunity to try bobsledding at Utah Olympic Park or go tubing at Woodward Park City, home to Utah's only 22-foot halfpipe. Park City is not just a place to ski; it's a place to create unforgettable memories. Whether you're in search of adventure or a cozy mountain escape, Park City is the perfect winter destination | visitparkcity.com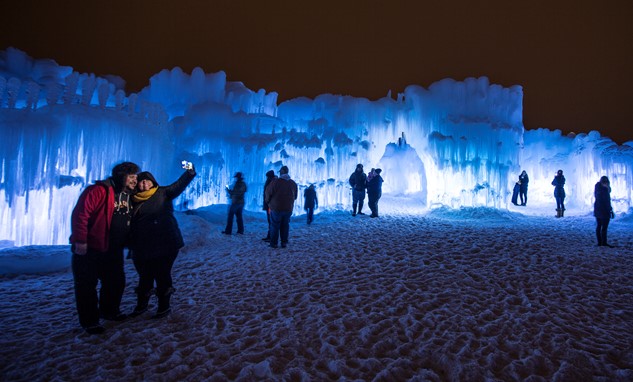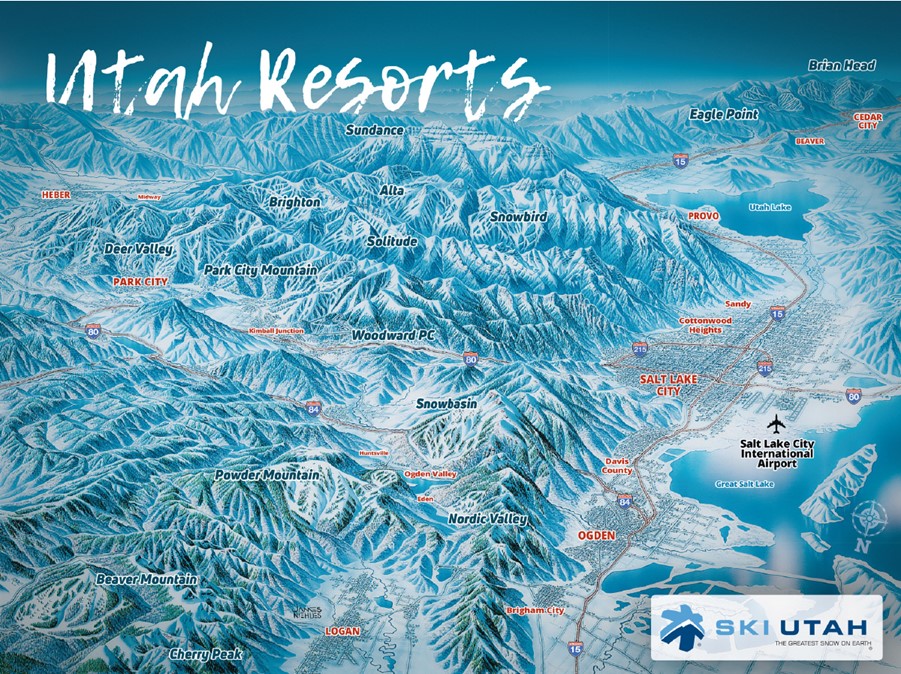 Explore Utah with the IKON PASS:
Embark on your Utah ski adventure with the convenience of the Ikon Pass, your gateway to a world of exceptional ski experiences. The Ikon Pass offers access to some of Utah's most renowned ski resorts, allowing you to seamlessly explore this winter wonderland. Whether you're an avid skier or just getting started, the Ikon Pass opens the door to a diverse array of slopes, terrains, and breathtaking vistas.
With the Ikon Pass, you can carve your way through the legendary slopes of Utah's premier ski destinations, including:
Snowbasin
Deer Valley Resort
Brighton
Solitude Mountain Resort
Snowbird
Alta Ski Area
Beyond the exhilarating slopes, you can immerse yourself in the vibrant culture and natural beauty of Utah. Discover the warmth of the charming alpine villages, indulge in world-class dining, and explore the state's unique après-ski scene. With the Ikon Pass, your Utah adventure is not just about skiing; it's about creating cherished memories in a destination where winter magic meets modern sophistication. So, get ready to make the most of your winter season with the Ikon Pass and uncover the unparalleled beauty and excitement that Utah's ski resorts have to offer.