Tuesday, January 30, 2018 - Whistler Blackcomb is a year-round resort located just 2 hours from Vancouver along the famous Sea to Sky Highway. Consistently ranked the numero uno ski resort in North America, it has an average snowfall of 11 meters (38 ft) and the most terrain and acreage on the continent.

This season Whistler Blackcomb unveiled its and the first-ever, full-length, ski and snowboard movie filmed entirely within a single ski area. It is called MAGNETIC.
"There is an indisputable draw, an irresistible allure, a pull so strong that skiers and snowboarders the world over gravitate to these famed peaks."
The first star is the geography - the trees, the snow, the peaks. Stunning. The second is the amazing filming. How do they do it? The third is the ski and snowboard talent that make this destination look so great and make skiing look so fun (and easy). We are big fans of Whistler Blackcomb here at Skican, and we are reminded why when watching this short feature.


For the skier/vacationer that likes to keep their feet firmly on or closer to the ground here are some things to consider for your next visit.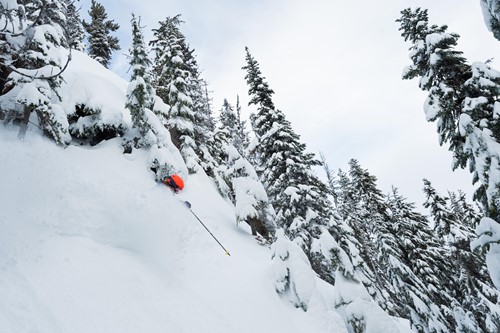 2 Ski Attractions
WB's ski terrain is vast, really vast which is why the PEAK to PEAK people mover is such as big deal. Available to skiers and non-skiers both mountains are accessible to you in one day via this 11 minute, engineering dream. But, to make the most of your ski time join a free mountain tour early in your stay (available each day on both mountains at select times). It is a great way to quickly introduce you to 'your runs' for the week.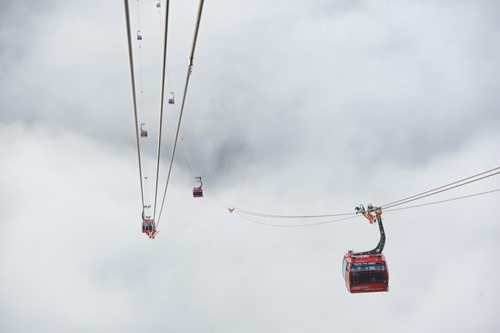 This is not a secret but off the beaten path. If you are looking for a little more adventure seek out the Blackcomb Ice Cave on the Blackcomb Glacier accessed by ski. It 'opens' at different times each winter and is a thing of geological awe (open now). Climb up, enjoy, take a photo – but don't enter. 

2 Pretty Lures

Available at sunrise and sunset all season long, watch the sun slide through the atmosphere turning the peaks pretty shades of pink and orange against blue and purple skies - a phenomenon known as Alpenglow. Make your way to Rainbow or Alta Lake for best viewing, but check the weather forecast first as a cloudy sky is not a friend of this marvel. 
In Whistler Village, not far from the Olympic rings, you will find the architecturally impressive Audain Art Museum nestled within the spruce groves. It opened in 2016 under the auspices of philanthropist Michael Audain (personal collection). The permanent collection showcases the art of British Columbia from the late 18th century to present. Other highlights include an important collection of 19th and 20th century First Nations masks and works by some of Canada's most celebrated artists including Emily Carr.

2 Beer Draws

Get to know Whistler beyond the hustle-bustle of the village. Set off on foot into a winter wonderland, no car necessary. Try this 'Creekside to Function Junction, Views & Brews' self- guided walk. Distance: 4.1km + (one way)
Directions:
Start in Creekside (this southbound bus will get you there from the village)
Enter the Valley Trail from Alpha Lake Park or Lake Placid Road
Head south, keep going past Rocky Knoll Park
Follow signs to Whistler Interpretive ForestOnce you reach Cheakamus Lake Rd either cross the highway into Function Junction or follow the Sea to Sky Trail along the Cheakamus River, see if you can find the waterfall or head to the Train Wreck hike (then retrace steps back to Cheakamus Lake Rd).
When you've reached Function Junction the Whistler Brewing Company and Coast Mountain Brewing will be waiting for you with their iconic beverages on tap!
Call a cab or return to Creekside on foot to catch the bus.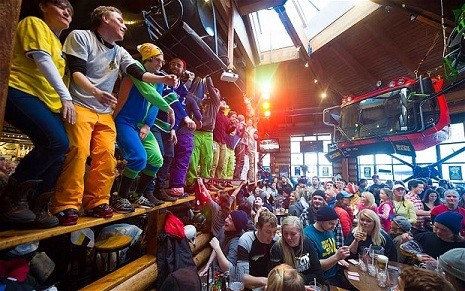 Chill out by a firepit around town and/or dance in your ski boots during après. Grab a seat by a firepit with friends and a hot drink and relax or find your apres vibe indoors at one of the many establishments across the 3 village bases. Ski boots, dancing, singing, and light bragging encouraged. Followed by a nap and reset. Go hard or go home! seems to be the Canadian way. For a few après suggestions, check here. 

The Force
The thing about Whistler Blackcomb is there is always something new to explore year over year – the food, the shopping, activities, so you can return many, many times and experience something new. But the other thing about Whistler Blackcomb is you can always experience your same old fantastic routine year over year with the same happy results. It is magnetic - no question.
There are still lots of great ski packages available until the end of April. Call 1.888.475.4226 or Get a Quote
Photos courtesy of Mike Crane and David McColm
« Back